IAMGOLD
Rosebel Gold Mine, Suriname

Location
The Rosebel gold mine is located in the mineral rich Brokopondo district in north eastern Suriname, South America.  Suriname is a former Dutch colony situated in northern South America bordering the Atlantic Ocean between French Guiana and Guyana.
 
The Rosebel property lies approximately 85 kilometres south of the capital city of Paramaribo.  The mining concession covers 170 square kilometres, with the Suriname River to the east, the Saramacca River to the west and the Brokopondo reserve to the south. The country covers an area of approximately 163,270 square kilometres with a population of around 500,000.
The property is accessible via paved and all weather gravel roads from Paramaribo, a drive of about 110 kilometres.  There is a small airstrip located onsite approximately 2 kilometres from the mill operations.  Suriname's Zanderij International Airport is approximately 60 kilometres by road north of Rosebel.  Electrical energy is purchased directly from the Surinamese government and from a parastatal energy company.  Rosebel's power is sourced from the nearby Afobaka hydroelectric generating station and from a diesel generation plant.
 
The economy of Suriname is dominated by the natural resources sector, in particular the bauxite industry. Additional natural resources include oil, gold, iron ore and forestry. The economy draws less than 10% of its income from the export of agricultural products including bananas, rice, timber, citrus fruits, shrimp and fish.
History
 
Gold was first discovered in the Rosebel area in 1879 when 600 small scale miners were reported to have been working on the concession. Since its discovery, the land has been both publicly and privately owned and operated. Most notable private owners have included Placer Development of Vancouver from 1974-1977, the Grasshopper Aluminum Company from 1979-1985 and Golden Star Resources Ltd. who acquired the Right of Exploration on the property in 1992. 
A 1994 Mineral Agreement between Golden Star, Grassalco and the Government of Suriname replaced the 1992 exploration agreement and Golden Star was granted a five year right of exploration for the Rosebel property. Later in 1994, Cambior entered into an option to joint venture agreement with Golden Star to earn an initial 50 percent interest in the project. 
A Feasibility Study and an Environmental Impact Statement were filed with the Government of Suriname in 1997.  A Pre-feasibility Study was delivered to the Ministry of Natural Resources in December 2000 and a final Feasibility Study was completed in August 2002. 
In October 2001, Cambior acquired Golden Star's remaining 50 percent interest in the Rosebel property. In addition, Golden Star transferred its rights in the adjacent Headley's Reef and Thunder Mountain exploration concessions to Rosebel Gold Mines N.V. ("RGM").  Commercial production commenced in February 2004 and IAMGOLD acquired Rosebel as part of its acquisition of Cambior in late 2006.
Milestones
1992 Mineral Agreement between the Government of Suriname, Grassalco and Golden Star.  
1994
Earn-in agreement between Cambior and Golden Star.
1997
Grassroots exploration and Feasibility Study
2001
Cambior purchases remaining 50% interest from Golden Star  
2002
Final Feasibility Study
2003
Phase I construction (Design 4.8 Mpa)
2004
Commercial production (February)
2005
Completion of Phase II expansion (Design 5.8 Mpa)
2006
IAMGOLD acquires Rosebel through acquisition of Cambior (November)
2008
Record mine throughput and gold production. IAMGOLD acquires 86% of Euro Ressources S.A. which holds a
2008
royalty interest in Rosebel.
2009 Phase III mill expansion & optimization increases nameplate capacity to 11 Mtpa.
2010
Production at Rosebel of 395,000 attributable ounces at a cash cost of $484 per ounce
Geology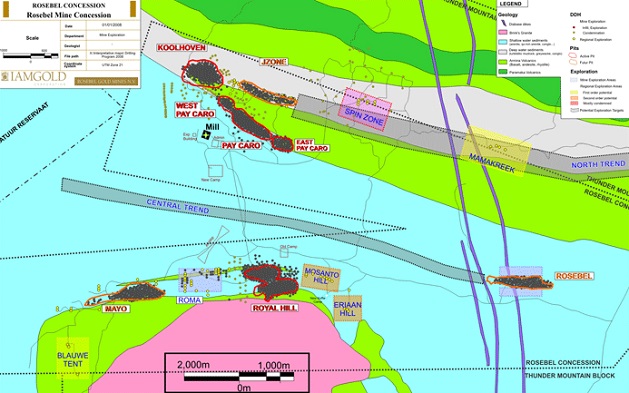 The Rosebel concession lies within the Paleoproterozoic Guiana Shield. The Suriname portion of the shield is characterized by discrete corridors of low grade metamorphic rocks (greenstone belts), separated by large granite gneiss terranes.
The local greenstone belt stratigraphy comprises a basal mafic to felsic volcanic package (Paramaka Formation) and two overlying volcano-sedimentary sequences (Armina and Rosebel Formations).  The Armina Formation includes intermediate to mafic volcanics and volcaniclastics, trubidite and minor conglomerate whereas the unconformably overlying Rosebel Formation is mainly comprised of coarser grained sandstone and conglomerate with subordinate mudstone. The entire sequence has been deformed by east-southeast to east-west striking folds and faults.  A large tonalitic pluton occurs in the southern part of the property (Brinks Granite). Metamorphism is greenschist to lower amphibolites facies.
The Rosebel property contains eight orogenic gold deposits distributed along three major structures.  The northern mineralized trend has a strike length of 12 kilometres and hosts the Pay Caro, East Pay Caro, Koolhoven and J-Zone deposits.  The southern mineralized trend has a strike length of 15 kilometres and hosts the Mayo, Royal Hill and Roma deposits.  The Rosebel deposit occurs at the eastern extremity of the central mineralized trend.
Mineralization

Primary gold mineralization occurs in several different styles on the property but is typically associated with multiple generations of quartz, quartz-carbonate and quartz-carbonate-tourmaline veining. Vein arrays are thought to have developed preferentially along pre-existing structural heterogeneities such as lithological contacts, fold closures and sub-vertical shear cooridors during major deformation phases.  For example, gold mineralization at the Rosebel deposit is associated with north dipping quartz and quartz carbonate vein sets localised along shear corridors developed at contacts between sandstone and siltstone units of the Rosebel Formation.  Low grade gold mineralization is widely dispersed in sericitic alteration halos surrounding these structures.  Diamond drilling has intersected economic gold mineralization to a vertical depth of 200 metres below surface and the continuity of the mineralization can be traced for over two kilometres along strike.  The deposit, like most others on the property, remains open on strike and at depth.   
Gold mainly occurs in its native form as free grains, often precipitated close to vein selvages or as intergrowths in pyrite crystals within veins and adjacent country rocks. Mineralized quartz veins range from a few centimetres up to 4 metres in thickness and are typically associated with a wall-rock alteration assemblage comprising sericite, chlorite, carbonate, tourmaline, pyrite, pyrrhotite and plagioclase.  Alteration halos range from 0.25 metres around individual veins to over 20 metres around major vein sets.
Mining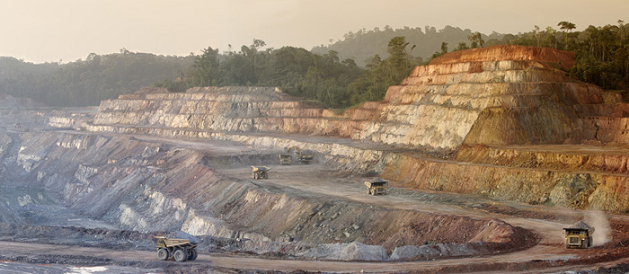 Mining at Rosebel has been carried out at five open pits to date: Royal Hill, Pay Caro, East Pay Caro Koolhaven and Mayo.  Three additional pits will be mined in future: Rosebel, Roma and J-Zone. Mining is by conventional open pit methods, using shovels and trucks. All of the material mined requires drilling for sampling and grade control purposes. Material is designated as soft rock, transition or hard rock with the latter two types requiring blasting. 
Mining progresses according to a planning schedule based on a three month forecast.  The mining sequence includes drilling, blasting and hauling for both ore and waste rock.




Processing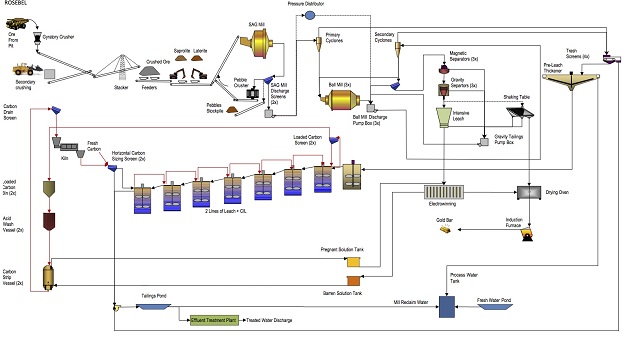 Mill processing unit operations include a gyratory crusher and coarse ore stockpile with feeders, a grinding circuit, a gravity recovery circuit, a leaching circuit, a carbon-in-leach (CIL) circuit, a carbon stripping circuit and a refinery as shown in the mill flow sheet.
Hard and transition rock is reduced to -6 inch through a primary crusher then stacked over two apron feeders for delivery to the mill grinding.  Soft rock is fed by excavators through two apron feeders in parallel to the primary crusher, reporting to the grinding circuit on the same conveyor as the hard and transition rock. Ore is ground to 80% -75 microns to liberate the gold for leaching (pulp).  Within the grinding circuit, a portion of the cyclone underflow reports to the gravity circuit where screens, cones and a Knelson concentrator are used to separate gravity recoverable gold (GRG).  Gravity gold is then further concentrated on a Deister table, dried and refined in the induction furnace at 1,250oC.
The pulp from the cyclone overflow is thickened and then fed to leach tanks where 70% of the feed gold is leached to be recovered by activated carbon in the CIL process. Pulp leaving the CIL circuit reports to the tailing pond with trace levels of gold. The loaded carbon from the CIL process is recovered by screening and sent to the stripping circuit where gold is stripped from carbon and put into solution.  The solution reports to an electro-winning process where the gold is plated onto cathodes by electrolysis, the gold sludge is washed from the cathodes, dried and finally refined in the induction furnace.
Depending on the gold mineralogy, the rock type, the ore grade, and the processing rate, recovery at Rosebel is typically in the low to mid 90% range.

Source: http://www.iamgold.com/English/Operations/Operating-Mines/Rosebel-Gold-Mine-Suriname/Overview/default.aspx