K+S Windsor Salt Ltd
Agricultural Products
Why Trace Mineral* Salt for Animals
The purpose of the animal's immune system is to render harmless foreign agents which may be bacteria, virus, or noninfectuous entities such as chemicals or toxins. Trace Mineral deficiencies occur all too frequently. When they do, the animal grows at a reduced rate, uses its feed less efficiently and operates with a depressed immune system. The end result is inefficient production and low profitability. To maximize immune functions, Trace Minerals must be provided on a regular basis. Because many of the Trace Mineral compounds are unpalatable in the pure form, providing a delivery method that ensures the proper intake on a regular basis is essential. Trace Mineral salt has proven to be the safest, most effective delivery method.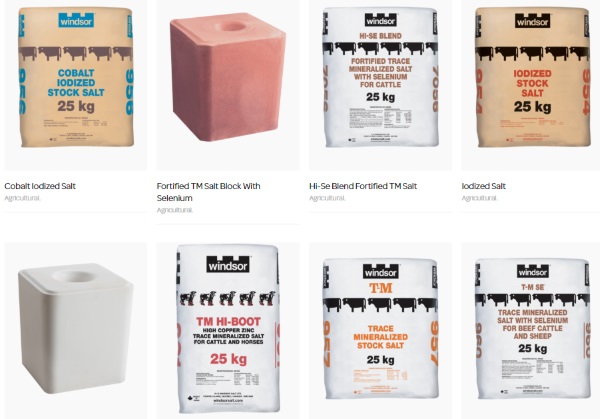 Source: https://windsorsalt.com/agricultural-products/
Underground Miner / Mill Operator
This is a permanent position in our underground salt mining operation. Responsibilities include safe operation of mining equipment, operation and monitoring of processing equipment, conveyors, and working well in a team environment.
Heavy Duty Mechanic
This is a permanent position in our Maintenance Department. Responsibilities include safe repair, assembly, or rebuilding of machinery and equipment, and working well in a team environment.
Floater
The Production portion of this position is to provide accurate and detailed production information and to coordinate and manage the flow of this information from the Production Personnel through the computer, to management.
Shaft Mine Captain
Reporting to the Operations Manager or General Manager; Shaft Mine Captain is an all-encompassing role for two mine hoist plants (one winder and one Koepe hoist), all shaft related work including sump dewatering, all mine utilities (surface to underground), and complete hoist loading/unloading systems.
Mine Laborer
As directed, performs a variety of tasks from unskilled to skilled and is the labor pool from which additional or vacant bid jobs are filled on a daily, weekly or longer basis.
Mechanic
Under direct supervision of the maintenance foreman and mine foreman, is responsible for general maintenance, servicing, installation and construction of mine mobile and stationary equipment.