New Gold Inc.
Blackwater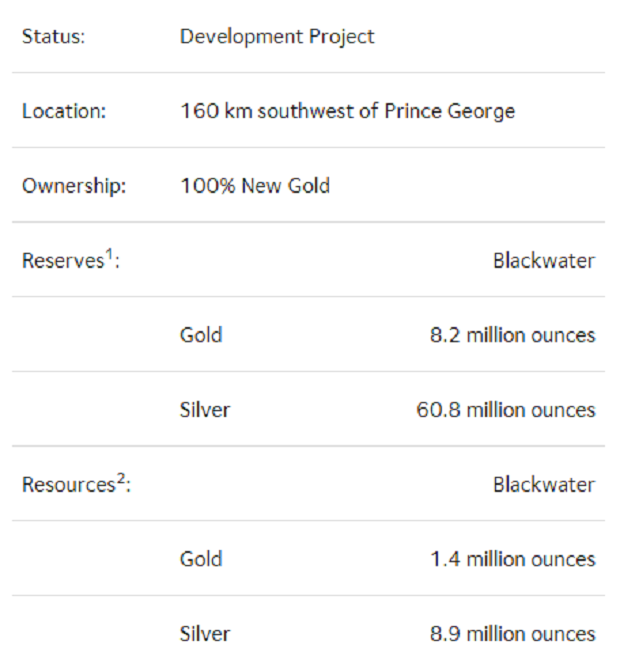 1Proven and Probable Mineral Reserves as of December 31, 2019
2 Measured and Indicated Resources are exclusive of Mineral Reserves (Excludes Inferred Resources) as of December 31, 2019
The project is in the Development Phase, having successfully achieved all necessary environmental assessment approvals. When the mine site is constructed, it will include an open pit, ore processing facilities, a tailings storage facility, waste rock dumps, water management facilities, offices, accommodation camps, warehouses, and a truck shop. A 140-kilometre transmission line will connect the mine site with an existing substation south of Endako, BC.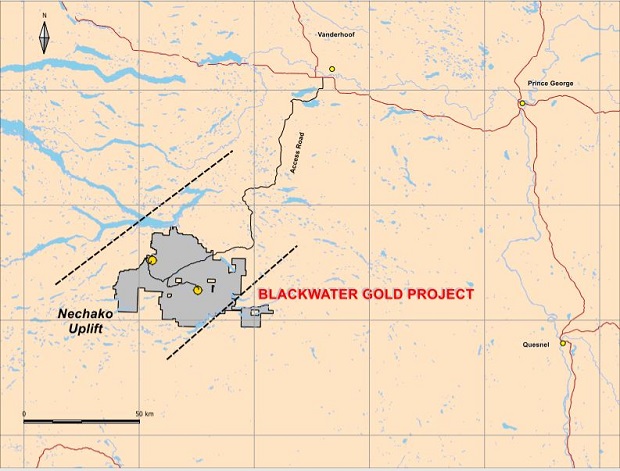 Site History
The Blackwater Project area has been actively explored since the discovery of anomalous concentrations of silver, lead, and zinc in silt samples taken from streams draining the Mt. Davidson area in 1973 by Granges Inc. Historic work includes soil geochemistry, geophysics and reverse circulation and diamond drilling.
Richfield Ventures Corp., a mineral exploration company, began work on the Blackwater Project in 2009. In March 2009, Richfield optioned the Davidson and Dave claims from Silver Quest Resources Ltd. and the Rozek family. In April 2011, New Gold acquired the Blackwater Project from Richfield Ventures Corp.
The Blackwater Project is a proposed open pit gold and silver mine located southwest of Prince George in north central BC. The Project would produce seven million ounces of gold and 30 million ounces of silver over 17 years. The Project has proven and probable reserves of 8.2 million ounces of gold and 61 million ounces of silver.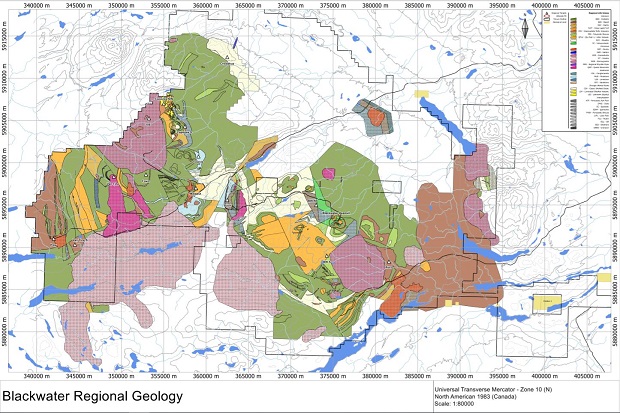 Geology & Mineralization
The Blackwater project is located within the Stikine Terrane of the Intermontane Belt of central British Columbia. The Stikine Terrane comprises Jurassic to early Tertiary magmatic arc and related sedimentary rocks.
The Blackwater deposit is hosted by a sequence of intermediate and felsic volcanics belonging to the late Cretaceous Kasalka Group. These rocks are overlain by Eocene age post-mineral volcanics belonging to the Ootsa Lake Group and underlain by basinal clastic rocks of the late Jurassic Bowser Lake Group. A well-developed system of northeasterly, northwesterly, and northerly striking faults crosscuts the entire package and acts as a principal control to gold-silver mineralization in the region. Quaternary glacial, colluvial, and fluvial deposits obscure most of the bedrock within the immediate project area.
Gold and silver mineralization at Blackwater occurs within an intermediate sulphidation, epithermal gold-silver system that occurs within two kilometres of a cluster of mineralized porphyry intrusive centers belonging to the same late Cretaceous Kasalka stratigraphic group. Host rocks within the deposit are pervasively hydrofractured, pyritized, and altered to a mixture of silica and sericite. Mineralization is typified by gold-bearing polymetallic sulphides (pyrite, sphalerite, marcasite, pyrrhotite) as disseminations and porosity infillings within the fragmental unit of the deposit. Mineralization is strongly controlled by northwest and northeast trending zones of tectonic brecciation and shearing. The deposit is bounded by post-mineral graben-forming faults to the north and south. A major north-south trending fault also transects the ore body, subdividing it into two distinct geological domains integral to the mineral resource block model.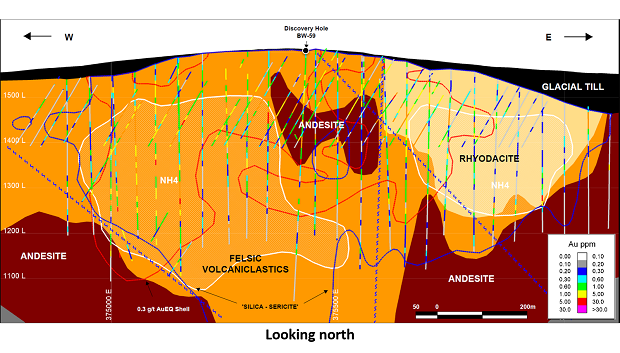 Exploration Potential
Following acquisition of the Blackwater Project, New Gold conducted an aggressive program of exploration and development that resulted in the successful delineation of a mineral reserve containing 8.2 million ounces of gold and 61 million ounces of silver, plus additional measured and indicated resources containing 1.1 million ounces of gold and 12.7 million ounces of silver. Since completing the feasibility study for the project in 2014, New Gold has identified multiple areas of prospective gold mineralization across its 1,487-square-kilometre property package. New Gold is currently directing its focus toward exploring for additional gold and silver resources within several kilometres of the known epithermal-style mineralization at Blackwater and the recently discovered porphyry copper-molybdenum mineralization to the south.
Responsible Mining
New Gold is committed to responsible mining in all mining, processing and environmental work across our operations and facilities from exploration, to mining, to rehabilitation and closure. As an organization, we strive to reach the highest standards in employee health and safety, environmental protection and community development and engagement. We believe these are key drivers to achieving a productive and profitable business.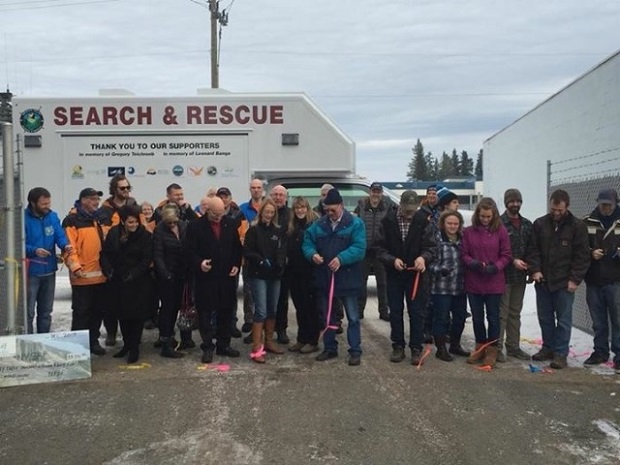 Blackwater Project Environmental Assessment Complete
With successful completion of the provincial and federal environmental assessments and signing of a participation agreement with Lhoosk'uz Dene and Ulkatcho First Nations in 2019, the project has achieved several milestones. New Gold continues to work toward putting the Blackwater project in the best position possible for moving forward. This includes adding value by completing participation agreements with other Indigenous groups and through engineering studies. In parallel with this work, New Gold is evaluating how to unlock the Project's value from a financing and strategic perspective.No decision has been made on when New Gold will move into the permitting phase.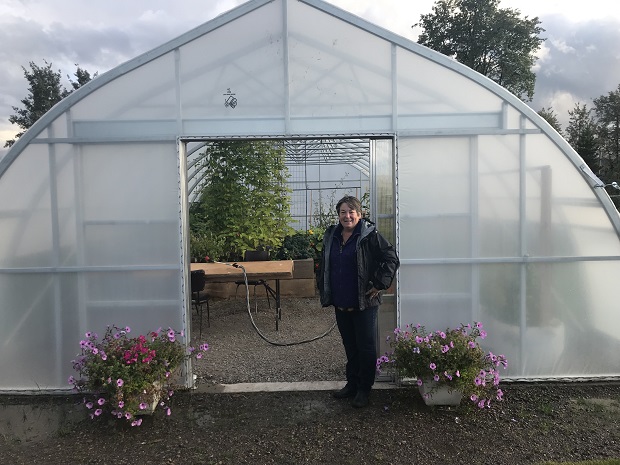 Community Relations
New Gold is committed to working closely with communities to make a positive contribution to the community and regions in which we live and work. We recognize that our growth and success depend on the long-term economic, social and environmental sustainability of each of the communities in which we operate.
The project has hosted a number of workshops, community forums and health forums to gain feedback and better understand the communities' needs.
Blackwater's Community Sponsorship Program reflects our corporate belief that communities should benefit from our project in both the short and long-term. We invest in sustainable community development, going beyond traditional philanthropic donations, to support initiatives and projects that have a meaningful and long-lasting positive impact on the community and region in which we operate. 
Source: https://www.newgold.com/assets/blackwater/default.aspx
Training Superintendent (1367)
The Training Superintendent is responsible for leading, planning and implementing all training and development services, policies and programs for Rainy River.