Moneta Porcupine Mines Inc.
Golden Highway Project
Moneta's land position covers 618 km2 and is one of the largest after the three main gold producers in the Timmins Camp, and includes the highly prospective Golden Highway Project which covers 12 kilometres of a volcanic/sedimentary belt and contains four branches of the Destor.
The Golden Highway Project hosts a gold NI 43-101 Resource Estimate (November 2019) of 556,500 ounces indicated (3.8Mt at 4.53 g/t Au) plus 1,174,000 ounces inferred (8.5 Mt at 4.31 g/t Au). The property covers over 200 square kilometres and is adequate in size to support milling infrastructure, however, six existing mills are within trucking distance and have excess capacity for toll milling. Indicated resources increased 58% in 2019 and inferred resources increased by 40% during the same period.
The Timmins Camp has first rate infrastructure with excellent off highway access via an extensive network of logging and drilling roads. Communications and power are available along Highway 101 and cell phone coverage extends to the property. A skilled labour force for mining and exploration is available in Matheson, Kirkland Lake and Timmins. Timmins and Kirkland Lake are also major supply and service centers for the mining industry.
Moneta's updated mineral resource was independently prepared by Micon International Limited in accordance with National Instrument 43-101 ("NI 43-101"), with an effective date of November 15, 2019 and using a database current as of October 14, 2019. The South West deposit has shown a significant improvement in size over the January 2019 resource estimate and remains open in all directions. Moneta has identified several adjacent targets at surface displaying the same style and tenor of gold mineralization within the Golden Highway Project which were not included in this mineral resource update and are the focus of our current drill program. Moneta is also drilling the extensions of adjacent gold deposits within the Golden Highway Project.
Mineral Resource Estimate by Deposit – Golden Highway Project
As at November 2019 (Prepared by Micon International) reported at a 3.00 g/t Au cut-off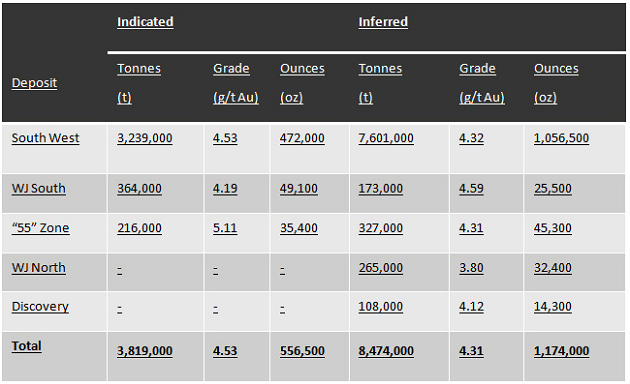 Top capping by deposit on 1m composites varying from 6 g/t Au to 37 g/t Au
Minimum 1.50 m width. Constrained to geological wire frames
At US$1,250/oz Gold Price, 60 m search radius
Ordinary kriging, 5m x 5m x 10m parent blocks with sub-blocking
Variable bulk densities, averaging 2.78 t/m3
Resource: Selectivity by Cut-Off Grade
South West Deposit; Mineral Inventory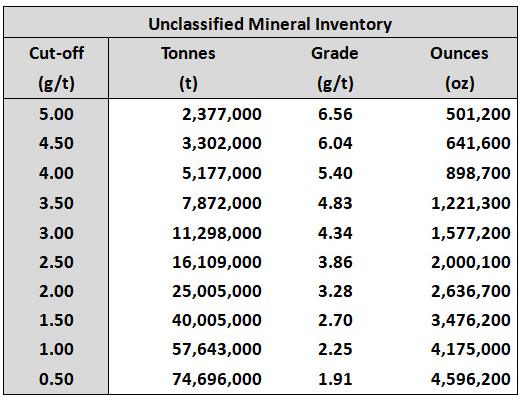 Note: The global mineral inventory used in the sensitivity analysis table at various cut-off grades for South West have not been corrected to remove isolated blocks which do not have a reasonable chance of extraction. They are reported from an unconstrained block model. The removal of isolated blocks has been conducted for the mineral resource estimate reported at a 3.00 g/t Au cut-off resulting in a loss of 7.2% of tonnes and 5.4% of ounces from the mineral inventory at this cut-off grade at South West.  
A total of 33 geological wireframes were constructed to constrain the resource estimate at South West based on detailed geological and structural interpretation with a minimum true thickness of 1.50 m. The estimate only considered mineralized zones potentially minable by underground methods at a cut-off grade of 3.0 g/t Au. The cut-off calculation is based on the parameters listed below:
PARAMETERS
Golden Highway Project, Parameters Used for Underground Mineral Resource Estimate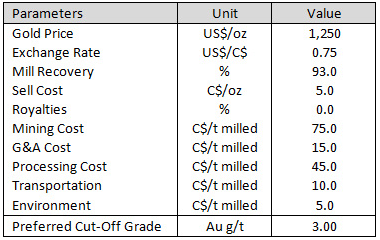 The calculated cut-off was below 3.00 g/t Au but this number was selected for conservatism in reporting the mineral resource.
South West Deposit
The South West deposit, including the Gap area, has been defined as a series of mineralized vein structures and associated stockwork zones which occur adjacent to the regional banded iron formation "A" unit "BIF-A".  Drilling and geological modelling has confirmed the existence of twenty-two veins including wider stockwork zones in the South West and Gap area. The NNW-SSE trending extensional vein structures occur as stacked veins, steeply dipping to the SW at 70°, and occur predominantly within a coarse grain sandstone that occurs adjacent to the BIF-A unit. The vein structures have been traced for up to 400 m strike length, drilled to 1,200 m depth, occur up to 25 m wide with an average width of approximately 3.0 m and are spaced 25 m to 40 m apart.
The veins and associated stock-work style veining occur as quartz-pyrite veins within a distinct ankerite-sericite-silica-pyrite alteration halo. The veins can be brecciated and occur as quartz matrix supported quartz vein breccia zones. 
SOUTH WEST GEOLOGY
Golden Highway Project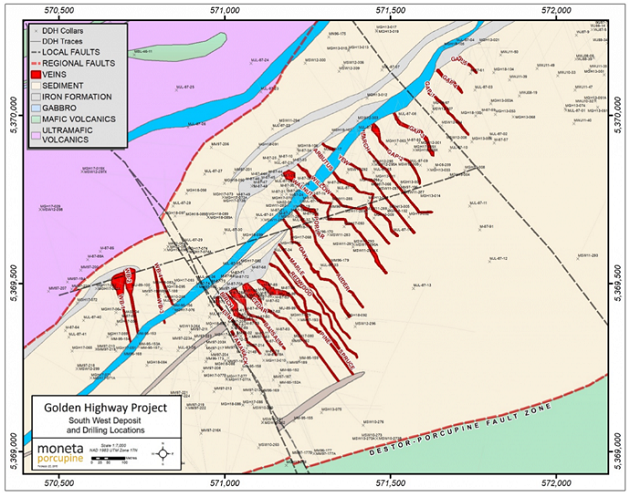 Resource Geology: Cross Section View
Golden Highway Project

QA/QC Procedures
All core drilling conducted by Moneta was oriented. Drill core is cut with half sent to AGAT Laboratories Inc. (AGAT) for drying and crushing to -2 mm, with a 1.00 kg split pulverized to -75 µm (200#). AGAT is an ISO 17025 accredited laboratory. A 50 g charge is Fire Assayed and analyzed using an AAS finish for Gold. Samples above 10.00 g/t Au are analyzed by Fire Assay with a gravimetric finish and selected samples with visible gold or high-grade mineralization are assayed by Metallic Screen Fire Assay on a 1.00 kg sample. Moneta inserts independent certified reference material and blanks with the samples and assays routine pulp repeats and coarse reject sample duplicates, as well as completing third-party check assays at Activation Laboratories Ltd. Routine samples are also selected for multi-element ICP-OES analysis utilizing a 4-acid digestion performed at AGAT Laboratories Inc.
** Please refer to www.sedar.com for current and past NI 43-101 Technical Reports.
Source: https://www.monetaporcupine.com/golden-highway-project/