K+S Windsor Salt Ltd
Ice Melts
Salt has been used in de-icing since the 1940s, providing safety and mobility for homeowners, motorists, as well as for commercial and emergency vehicles. Without it, winter would be hazardous and chaotic. Our family of Windsor® Ice Melts superior performing products are specially formulated and tested to meet individual and professional needs. Whether it's your pet's safety that is a priority, protecting your driveway from damage, or needing a fast acting de-icer for those harsh winter conditions, Windsor® Salt has the de-icer for you. Also developed for superior traction and professional use, Windsor® Ice Melts are tested for Canadian winters. Get to know all of our products and what they can do for you.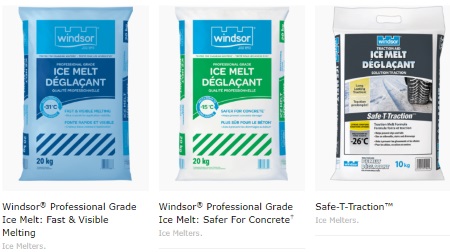 Source: https://windsorsalt.com/ice-melts/
Underground Miner / Mill Operator
This is a permanent position in our underground salt mining operation. Responsibilities include safe operation of mining equipment, operation and monitoring of processing equipment, conveyors, and working well in a team environment.
Heavy Duty Mechanic
This is a permanent position in our Maintenance Department. Responsibilities include safe repair, assembly, or rebuilding of machinery and equipment, and working well in a team environment.
Floater
The Production portion of this position is to provide accurate and detailed production information and to coordinate and manage the flow of this information from the Production Personnel through the computer, to management.
Shaft Mine Captain
Reporting to the Operations Manager or General Manager; Shaft Mine Captain is an all-encompassing role for two mine hoist plants (one winder and one Koepe hoist), all shaft related work including sump dewatering, all mine utilities (surface to underground), and complete hoist loading/unloading systems.
Mine Laborer
As directed, performs a variety of tasks from unskilled to skilled and is the labor pool from which additional or vacant bid jobs are filled on a daily, weekly or longer basis.
Mechanic
Under direct supervision of the maintenance foreman and mine foreman, is responsible for general maintenance, servicing, installation and construction of mine mobile and stationary equipment.