Metals Creek Resources
Iron Horse - NFLD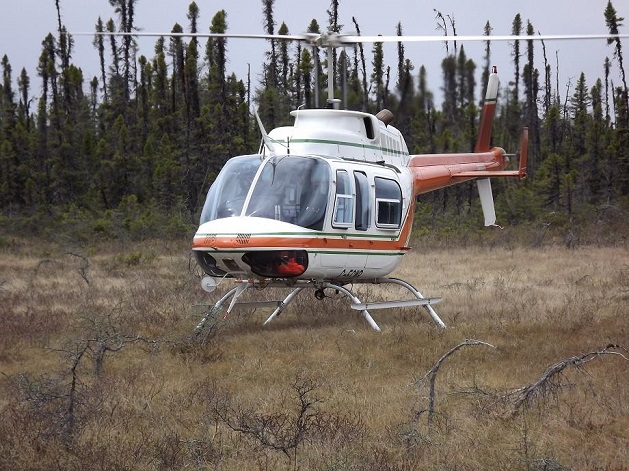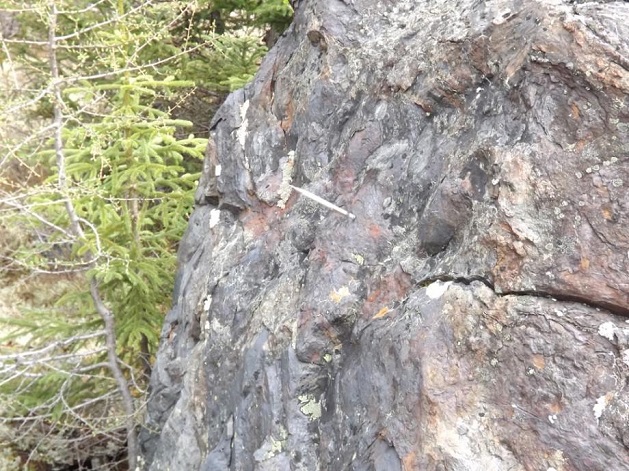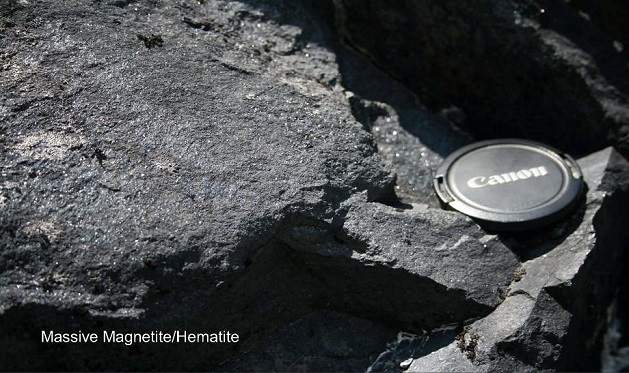 Golden Dory  and Metals Creek  have agreed to amend their  existing Option and Joint Venture Agreement dated May 18, 2012 (the "JVOA") to provide for GDR to accelerate its interest in the Property to 70% and then for GDR to purchase the remaining 30% residual interest from MEK (the "Residual 30% Interest").
The JVOA will be amended to provide that GDR will accelerate increasing its interest in the Property to 70% by issuing 2,500,000 common shares to MEK without having to comply with a previous term which required GDR to complete a NI 43-101 report resulting in a minimum of 50 million tonnes of product.  Upon GDR acquiring the 70% interest in the Property, MEK's royalty interest in the Property will be reduced to a 0.9% NSR.  As part of the amended JVOA, GDR will also purchase MEK's Residual 30% Interest by: a) issuing 15 million common shares to MEK; b) paying $1 million to MEK upon completion of a bankable feasibility study on the Property; and c) issuing to MEK an additional 1% NSR on the Property.  For the purposes of clarity, upon GDR acquiring all of MEK's interest in the Property, MEK will retain, in the aggregate, a 1.9% NSR in the Property. Upon completion of the transactions, MEK will own 19,000,000 shares of GDR, or approximately 15% of its total issued and outstanding, while GDR will have a 100% interest in the Iron Horse project.
In addition, Metals Creek has entered into an agreement with Gold Royalties Corporation (TSX-V:GRO) ("Gold Royalties") in which Gold Royalties will acquire a 1.0% royalty interest in the Iron Horse Project. The purchase price of $1,000,000 is payable through the issuance of 1,333,333 common shares of Gold Royalties (the "Gold Royalties Shares") at a deemed price of $0.75 per Gold Royalties Share (the "Share Consideration"). Closing of the Transaction, which is expected to occur on or before February 28, 2013, is subject to certain conditions, including approval of the TSX Venture Exchange (the "TSXV") and closing of the transaction announced by Metals Creek on January 17, 2013 (the "Metals Creek Transaction"). Upon closing of the Gold Royalties and Metals Creek Transaction, Metals Creek will own 1,,333,333 shares of Gold Royalties or approximately 5% of GRO's issued and outstanding shares and still retain a 0.9% royalty from the Iron Horse Project.
Anomaly A.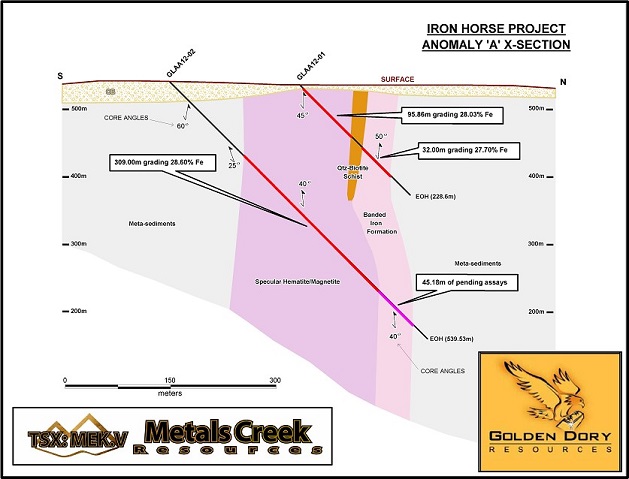 (click to enlarge)
Regional Location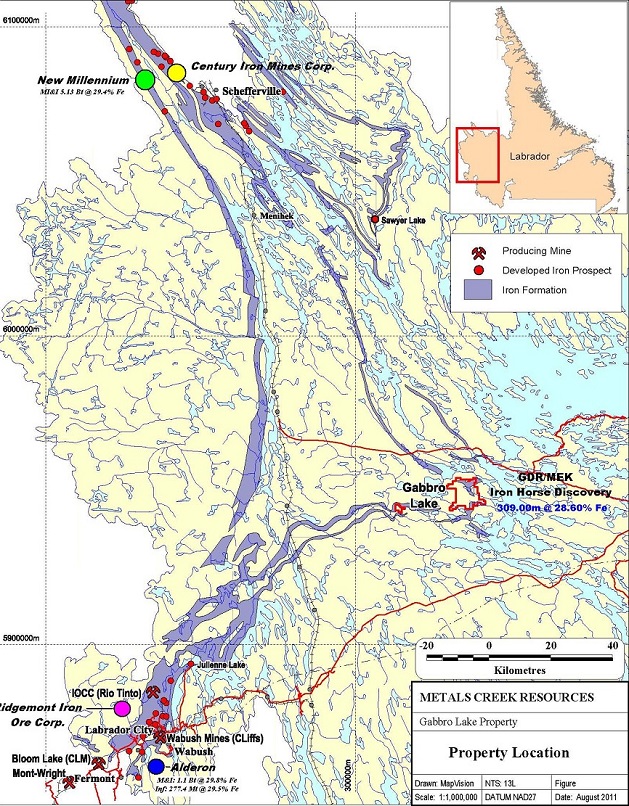 (click to enlarge)
Phase 2 Drilling Results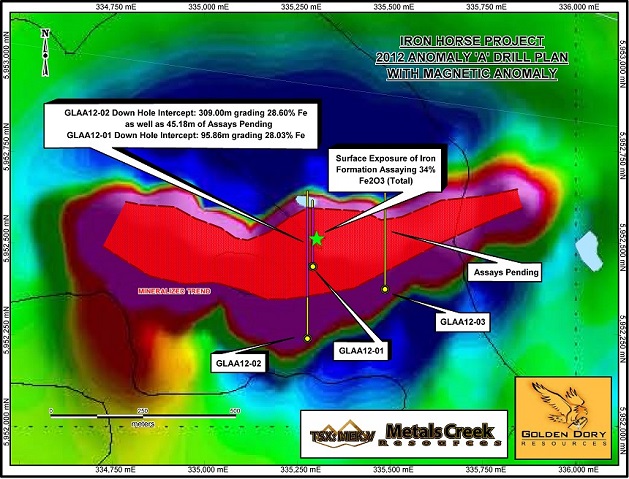 (click to enlarge)
Property Drill Plan Map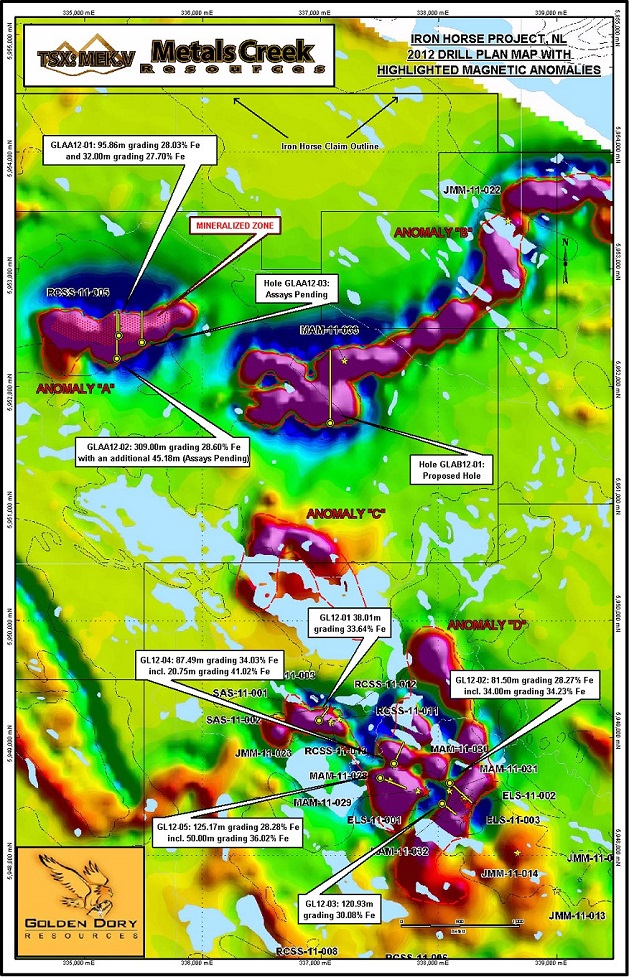 (click to enlarge)
Source: http://www.metalscreek.com/article/iron-horse--nfld-144.asp