Newmont Corp.
Livecycle of a mine
All Operating Newmont Mines Pass through Six Stages During their Lifetime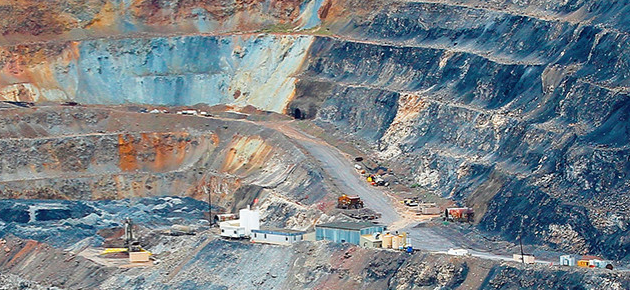 About Our Process
From the discovery of buried minerals to reclaiming land after closure of a mine, our operations can sometimes span 30 years or even longer. This means we may conduct business in or near a community for decades, and even generations. Throughout that time, Newmont's core values – safety, integrity, sustainability, responsibility and inclusion – give guidance to the actions of our employees and partners to ensure that we create value and improve lives through sustainable and responsible mining.
Before pursuing any new opportunity, we rigorously evaluate the geologic, biological, social, political, financial, infrastructure and cultural landscape in order to determine the viability and value of a project.
Our Global Supply Chain group plays a critical strategic and governance role throughout the life of a mine, ensuring that our network of local and global partners meet strict environmental, social, safety and ethical criteria to supply their goods and services in a manner that aligns with our vision and values.
We also proactively maintain our property, facilities and equipment at each stage of the lifecycle to ensure that our operations are safe, efficient and responsible. Properly managing and maintaining these mobile and fixed assets ensures that our business runs effectively and according to plan.
Follow along as we take a look at what happens throughout the life of a Newmont mine.
1. EXPORATION
EXPLORING FOR GOLD IS A COMPLEX, SCIENTIFIC AND TIME-CONSUMING PROCESS.
With odds of only one in 3,000 discoveries leading to mine development, and only 10 percent of the world's gold deposits containing enough gold to mine, exploration can be labor-intensive, time consuming and expensive. Exploration can last anywhere from a couple of years to sometimes even decades. It also marks the first contact between Newmont's and the community, and these interactions are critical to shaping positive future relationships.
Early attention to the environmental and social characteristics of an area through baseline studies and assessments is an important way that we identify, predict and assess the type and scale of potential impacts and opportunities associated with our activities in the area. We begin these social and environmental baseline studies as early as possible, as effective assessment of an area may require months or even years to account for seasonal and migration issues.
This survey and research includes the collection of data from: water resources, flora and fauna, ecosystems, socio-economic conditions and populations, community health, air, soil and geochemistry.
We continue these studies right through to the Development and Design stage where the collected data helps to identify any project alternatives in our impact analysis. So how do Newmont's exploration teams locate future large-scale projects? 
2. DEVELOPMENT & DESIGN
DETERMINING WHETHER TO EXECUTE A PROSPECTIVE INVESTMENT REQUIRES IN-DEPTH RESEARCH AND ANALYSIS. 
Newmont's crews work to determine whether the prospective site can be safely operated in an environmentally sound, economically viable and socially responsible manner. Expanded work activities take place during the design and development stage, with more people on the ground conducting studies on the common, technical and business elements required to move forward into construction. Common elements are defined by activities that require the participation and input of multiple departments and cross-functional coordination, including (but not limited to) project execution planning, capital cost estimation, organizational modeling and risk assessments.
Technical elements, such as asset management, geology and resource modeling, project engineering and metallurgical process planning, are evaluated in order to determine the mining and process requirements of a prospective site – all of which is done with full consideration of the international, national, regional and local laws and regulations, as well as Newmont's own standards and voluntary commitments. A full review of business elements such as human resources, insurance, legal, security, and health and safety is also included in the work activity required to evaluate a project's feasibility.
Typical project development can take up to 10 years from when the exploration group discovers the gold deposit, with the time expanding depending on economic conditions, legal requirements, technical difficulty and other factors.
3. CONSTRUCTION
THE SCOPE AND COMPLEXITY OF MINE CONSTRUCTION CAN VARY CONSIDERABLY FROM PROJECT TO PROJECT. 
Each site must continue to engage in collaborative and honest stakeholder engagement to ensure the expectations of all parties are aligned. With the economic certainty of an approved project, Newmont can start to implement training programs and partnerships with development non-governmental organizations (NGOs) and government agencies to kick-start economic empowerment in the community.
Once we have secured the necessary permits, capital investments and local stakeholder support, the construction phase can begin. Crucial to building the mine is ensuring that the best skilled personnel are available, materials are judiciously used, and time and other resources are optimally applied. 
4. PRODUCTION
WHILE THE PRODUCTION STAGE CAN BE LONG, TYPICALLY FROM 10 TO 30 YEARS OR BEYOND, IT IS ONLY A MOMENT IN THE MINE'S LIFECYCLE. 
When operating a mine, we use stringent controls to prevent or manage any environmental impacts. Newmont's environmental management systems are designed to ensure all environmental considerations – including management, monitoring, maintenance, training and action plans – are incorporated within an overall framework as an integral part of mining operations.
During the production phase, Newmont, governments, civil society and local stakeholders continue to work together to implement community development programs to catalyze long- term, sustainable socio-economic growth so that communities can thrive long after mining operations cease. We strive to reclaim land as we progress – called concurrent reclamation – and to incorporate stakeholder input in our closure plan.
The specialized machinery and heavy equipment that we use for production must be managed with discipline. These assets are maintained on a regular basis to ensure the safety, productivity and longevity of our operations. 
5. CLOSURE
THE CLOSURE STAGE OF A NEWMONT MINE CAN BE A TIME OF TRANSITION FOR BOTH THE COMPANY AND THE COMMUNITIES AROUND THE MINE. 
Planning for closure begins during the earliest stages of project evaluation, well before construction starts at a new site. Reclamation activities commence during the production stage and continue post-operations until closure objectives can be achieved. Our goal is to minimize, to the extent possible, the disturbance of land in all stages of the mine lifecycle beginning with our exploration activities. Our goal is to reclaim all areas disturbed concurrently, when land is no longer needed for future mining operations, and to leverage facilities (e.g., roads, housing, etc.) for their long-term benefit to communities around the mine site. 
6. POST-CLOSURE
WE ARE RESPONSIBLE FOR MANAGING THE PROPERTY FOR A PERIOD OF TIME, THE LENGTH OF WHICH MAY VERY FROM FIVE TO TEN YEARS OR MORE. 
The purpose of this post-closure period is to ensure that all reclaimed mine lands, water management structures and revegetation are working as intended. Additionally, reclamation and long-term stabilization often occur incrementally, requiring a phased approach as well as ongoing performance monitoring. There are maintenance activities to be conducted to address erosion, and monitoring to ensure that post-closure performance criteria are being met and intended land uses are being achieved. Normally, there are financial surety instruments in place, which require that Newmont demonstrate successful closure in order to be released from financial liability. In many cases, long-term water management obligations require active water treatment and monitoring that could last for decades. In such cases, financial trusts are often established in cooperation with regulatory agencies to ensure adequate funding for personnel, supplies and equipment to fulfill these ongoing obligations.
POST-CLOSURE
As the mining industry continues to evolve, Newmont continues to create value and improve lives through sustainable and responsible mining.
Be sure to check back in on the Lifecycle of a Mine for ongoing updates. Visit these sites to learn more about the role that mining and metals can have on sustainable development: 
Source: https://www.newmont.com/about-us/about-mining/life-cycle-of-a-mine/default.aspx
Exploration Geologist
To process, compile and interpret a significant amount of geologic information being generated by the Borden exploration efforts. Work with contractors and work effectively and efficiently within the geology team and with other departments.
Drill and Blast Engineer
The Drill & Blast Engineer will be responsible for the design and monitoring of efficient and safe mining practices involving drilling & blasting in operations and technical services.
Senior Database Analyst
The Senior Database Analyst is in charge of maintaining and further modifying an in-house SQL database for validating, storing, and auditing a large variety of large datasets (Production drilling, exploration drilling, sampling etc.) in support on Mine Geology, and Exploration Geology as well as Mine Operations and Mine Engineering.
Mine Surveyor
This position will be reporting to the Chief Surveyor.  Accountable for prioritizing daily tasks and providing accurate surveys and mark ups to operations and planning group in a timely manner.
Miner 4 Sump Mucker
Operates Scooptram to remove materials from underground sumps, and occasionally help with pump changes. Reports to the Upper Longhole/ Construction Supervisor at Hoyle site.
Production Geologist
Interpret, collect and compile geological information, communicate with and direct underground production crews and provide support for the Mining department, the Engineering department, for underground operations diamond drilling, for reserve/resource calculations and for data management.
Project Controls Director
Senior level position providing mentorship and leadership to definition, development of and adherence to Newmont standards for controls systems, development and policies for multiple studies and programs.
Electrical Planner
As the planner, you develop maintenance plans in order of priority for preventative, shutdown, backlog, and ad-hoc underground maintenance work activities.
Mobile Maintenance Planner
As the planner, you develop maintenance plans in order of priority for preventative, shutdown, backlog, and ad-hoc maintenance underground work activities.