New Gold Inc.
New Afton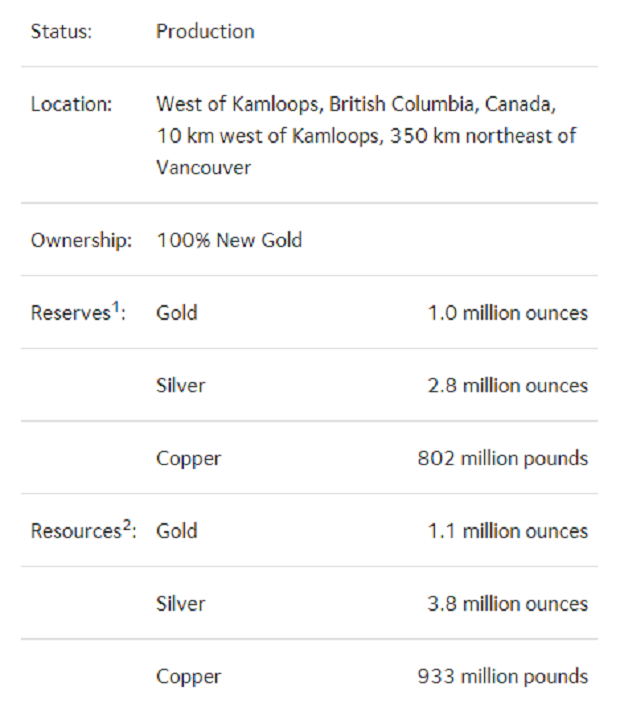 1 Proven and Probable Mineral Reserves as of December 31, 2019
2 Measured and Indicated Resources are exclusive of Mineral Reserves (Excludes Inferred Resources) as of December 31, 2019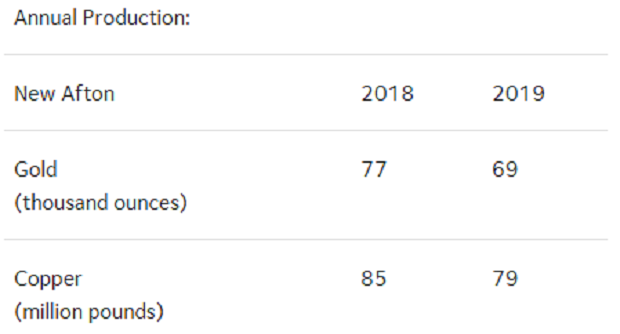 Site History
New Afton began production in June 2012 with commercial production following in July 2012. The underground operation is expected to produce, on average, 85,000 ounces of gold and 75 million pounds of copper per year over its mine life.
The mine occupies the site of the historic Afton Mine and includes an open pit, underground workings, historic support facilities, a new concentrator and recently constructed tailings facility. The New Afton deposit extends to the southwest from immediately beneath the Afton Mine open pit.
New Gold's holdings in the area comprise the Afton Group and the Ajax Group. The New Afton deposit lies within the Afton Group. The Afton Group consists of 61 mineral claims included in a mining lease issued by the Ministry of Energy, Mines and Petroleum Resources on November 29, 2006 (the "Afton Mining Lease"). The total area of the Afton Mining Lease and all other claims is 12,450.4 hectares.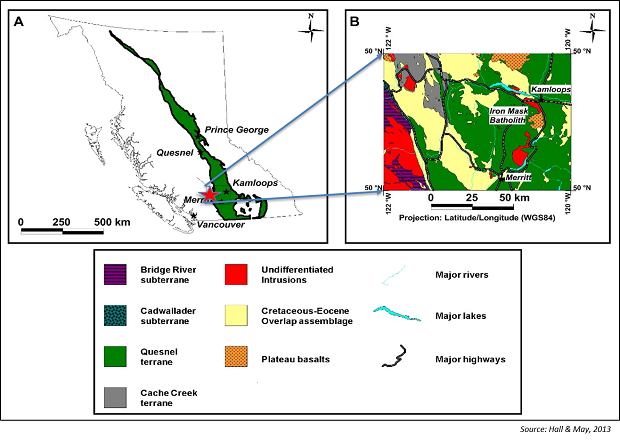 Geology & Mineralization
The New Afton deposit comprises part of a larger copper-gold porphyry district situated within the prolific Quesnel Trough island-arc terrane, host to many of British Columbia's major copper and gold districts. Pre-mineral country rocks consist of intermediate to mafic volcanic country rocks belonging to the Triassic Nicola Formation. Regional scale fault zones act as the principal controls to the emplacement of the batholithic rocks and related porphyry-style mineralization in the area. The bulk of the New Afton deposit occurs as a tabular, nearly vertical, southwest plunging body measuring at least 1.4 kilometres along strike by approximately 100 metres wide, with a down-plunge extent of over 1.5 kilometres. The deposit remains open to the west and at depth.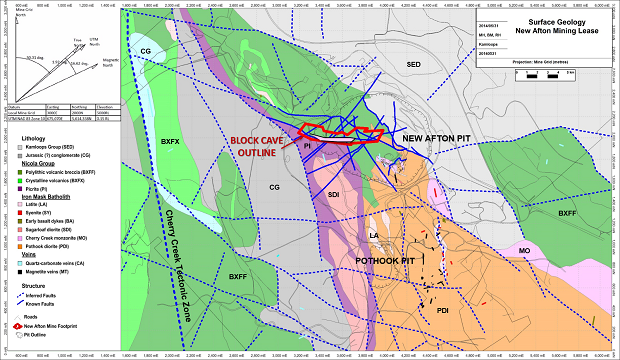 Mineralization is characterized by copper sulphide veinlets and disseminations localized at brecciated margins between altered porphyry intrusives and Nicola volcanic country rocks. Copper occurs primarily as chalcopyrite and lesser bornite, with secondary chalcocite and native copper occurring in the upper nearer-surface parts of the deposit. Gold occurs as sub-micron grains associated with copper sulphides.
Since the commencement of commercial production in 1977, the New Afton mine has produced more than 800,000 ounces of gold and 850 million pounds of copper from both open pit and underground operations.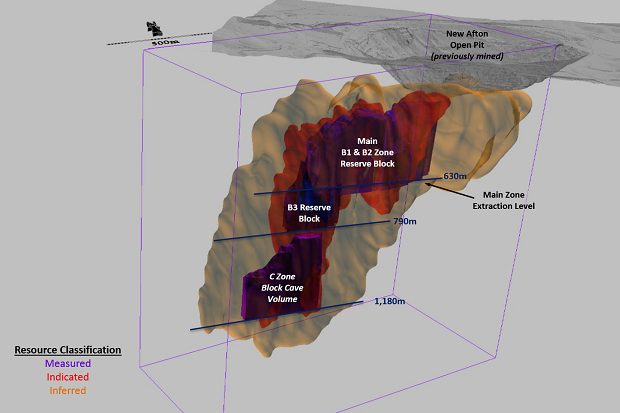 Exploration Potential
Since the start of the current underground block cave operation in July 2012, exploration at New Afton has focused on extending the mineral resource below the current B-Zone block cave reserve. This work has resulted in the development of the C-Zone mineral resource which is currently the focus of a feasibility study. The C-Zone resource remains open to further growth both laterally and down plunge to the west.
Responsible Mining
New Gold is committed to responsible mining in all mining, processing and environmental work across our operations and facilities from exploration, to mining, to rehabilitation and closure. As an organization, we strive to reach the highest standards in employee health and safety, environmental protection and community development and engagement. We believe these are key drivers to achieving a productive and profitable business.
Community Relations
New Gold is committed to working closely with communities to make a positive contribution to the community and regions in which we live and work. We recognize that our growth and success depend on the long-term economic, social and environmental sustainability of each of the communities in which we operate.
New Afton's Community Sponsorship Program reflects our corporate belief that communities should benefit from our operations in both the short and long-term. To that end, we invest in sustainable community development, going beyond traditional philanthropic donations, to support initiatives and projects that have a meaningful and long-lasting positive impact on the community and region in which we operate.
Source: https://www.newgold.com/assets/new-afton/default.aspx
Training Superintendent (1367)
The Training Superintendent is responsible for leading, planning and implementing all training and development services, policies and programs for Rainy River.