Timmins Mechanical Solutions
Our New Shop Facility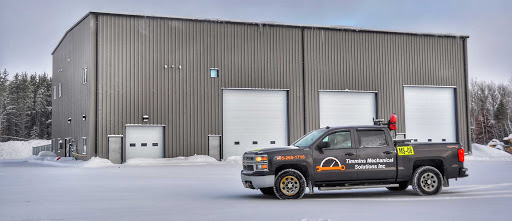 Growing to Serve You!
TIMMINS MECHANICAL SOLUTIONS IS PROUD TO WELCOME YOU TO OUR NEW SHOP!
Our new 12,000 square foot shop facility at 4395 Hwy 101 West adds to the existing 4,000 square foot shop in the West End of Timmins.
With 7 bays filled with state-of-the-art tools, two 10-ton bridge cranes, and 26-foot door-clearance, our new shop is designed specifically to meet the needs of our heavy equipment and mining community customers in northern Ontario. Our new location can accommodate up to 10 pieces of mobile equipment, and even some of your biggest machines, for example, up to a Cat 785 truck and/or a 992 loader.
That's a total of 16,000 square feet of amazing, high-quality service, and 10 more highly-trained technicians who will be busier than ever!
Timmins Mechanical Solutions has had pieces shipped for repairs from as far away as Moosonee and Rouyn-Noranda, and with this increased capacity, there is no stopping us in terms of the service we can provide you.
Source: http://timminsmechanicalsolutions.com/services/our-new-shop-facility
HEAVY EQUIPMENT TECHNICIAN
We are growing again and looking to hire a licensed Heavy Equipment Mechanics that strive to be the best. Our dynamically driven team is looking for someone who wants to help realize the business' growth potential in this trade.