K+S Windsor Salt Ltd
Pool Salt
Make pool maintenance smart and easy: Windsor® Pool Salt is simple to use and additive-free! Windsor® Pool Salt is a high-quality pool salt for use in salt water chlorinators. It's a convenient, simple and safe way to disinfect water, producing high quality pool water with reduced maintenance. This high-purity pool salt is fast dissolving and additive-free, thereby eliminating the need to handle and store hazardous chemical chlorine.
ADVANTAGES OF USING WINDSOR® POOL SALT:
Eliminates handling hazardous chlorine
Causes less skin and eye irritation
Has no unpleasant chlorine smell
Economical
WHY CHOOSE WINDSOR® POOL SALT:
Windsor® Pool Salt is a high purity and fast dissolving non-treated evaporated salt designed for use in swimming pools that are equipped with Salt Chlorine Generators or automatic sanitizer systems. It contains no additives (YPS). This product helps maintain a clean and, safe pool environment, reduces maintenance and eliminates chemical odours. Windsor® Pool Salt optimizes performance of the chlorine generator and prevents staining of pool surfaces.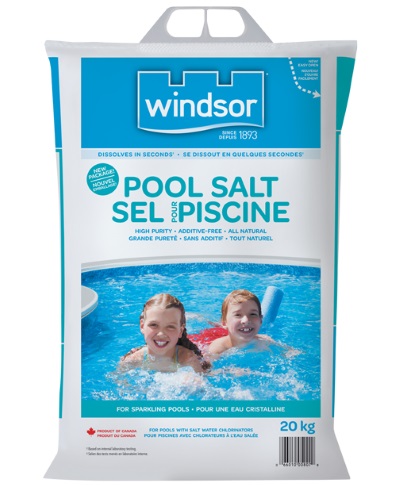 Source: https://windsorsalt.com/pool-salt/
Underground Miner / Mill Operator
This is a permanent position in our underground salt mining operation. Responsibilities include safe operation of mining equipment, operation and monitoring of processing equipment, conveyors, and working well in a team environment.
Heavy Duty Mechanic
This is a permanent position in our Maintenance Department. Responsibilities include safe repair, assembly, or rebuilding of machinery and equipment, and working well in a team environment.
Floater
The Production portion of this position is to provide accurate and detailed production information and to coordinate and manage the flow of this information from the Production Personnel through the computer, to management.
Shaft Mine Captain
Reporting to the Operations Manager or General Manager; Shaft Mine Captain is an all-encompassing role for two mine hoist plants (one winder and one Koepe hoist), all shaft related work including sump dewatering, all mine utilities (surface to underground), and complete hoist loading/unloading systems.
Mine Laborer
As directed, performs a variety of tasks from unskilled to skilled and is the labor pool from which additional or vacant bid jobs are filled on a daily, weekly or longer basis.
Mechanic
Under direct supervision of the maintenance foreman and mine foreman, is responsible for general maintenance, servicing, installation and construction of mine mobile and stationary equipment.