Newmont Corp.
Porcupine Mines
Overview
Located in and around the City of Timmins, the Porcupine district has produced more than 67 million ounces since 1910. Currently, approximately 60% of the gold comes from the Hoyle Pond underground mine, where mechanized cut and fill and longhole mining methods are used to extract the ore, and the remaining ore comes from the Hollinger Open Pit mine. The Dome Underground mine ceased operations in 2017.
Ore is processed at the Dome processing facility using a circuit that includes crushing, grinding, gravity concentration, cyanide leaching, carbon in pulp recovery, stripping, electrowinning and refining.
Operation Facts
Location: Timmins, Ontario
Ownership: 100%
Type of Mine: Underground, open pit and stockpiles
Annual Gold Production*: 223 attributable Koz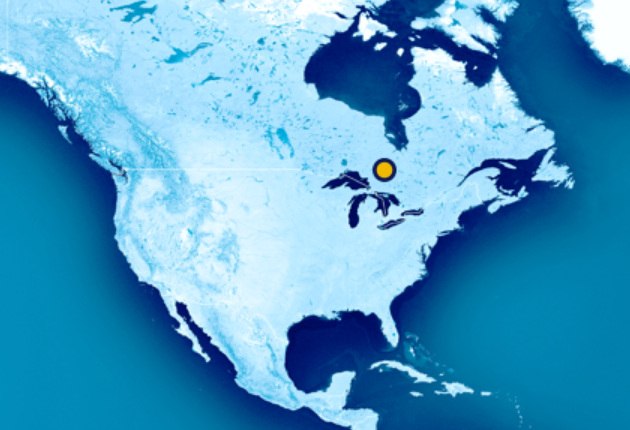 Health and Safety
In 2016, Porcupine became the second site in the world to have a Draeger 9000 mine rescue vehicle onsite. The truck allows mine rescue teams to respond faster to an incident and stay there longer. It also monitors the air inside and out of the vehicle, and has thermal imaging that can help detect trapped miners.
Community
Before Goldcorp acquired Porcupine, mining had taken place in Timmins for nearly 100 years without Aboriginal or community group consultation. Porcupine has formal collaboration agreements with all of the First Nations that assert Aboriginal and treaty rights in and around the district: Mattagami, Wahgoshig, Matachewan, and Flying Post First Nations.
In October 2016, Niiwin, a business owned in equal parts by each of the four First Nations, was officially launched. Niiwin offers ore haul, cleaning and earthworks services for reclamation work at Porcupine.
While Porcupine's workforce is 13% women and 8.7% Indigenous, the team working on the Century Project is evenly split between men and women – unusual in an industry where women are still in the minority.
Environment
The Porcupine district includes dozens of historic mine properties that are being reclaimed so the land can be used productively by the local communities: tailings facilities and mine openings are being rehabilitated and historic infrastructure demolished.
Porcupine Contact
t: (705) 235-6589
f: (705) 235-6551
community.feedback@goldcorp.com
4315 Gold Mine Road South Porcupine, Ontario P0N 1H0
Source: https://www.newmont.com/operations-and-projects/global-presence/north-america/porcupine-canada/default.aspx
Exploration Geologist
To process, compile and interpret a significant amount of geologic information being generated by the Borden exploration efforts. Work with contractors and work effectively and efficiently within the geology team and with other departments.
Drill and Blast Engineer
The Drill & Blast Engineer will be responsible for the design and monitoring of efficient and safe mining practices involving drilling & blasting in operations and technical services.
Senior Database Analyst
The Senior Database Analyst is in charge of maintaining and further modifying an in-house SQL database for validating, storing, and auditing a large variety of large datasets (Production drilling, exploration drilling, sampling etc.) in support on Mine Geology, and Exploration Geology as well as Mine Operations and Mine Engineering.
Mine Surveyor
This position will be reporting to the Chief Surveyor.  Accountable for prioritizing daily tasks and providing accurate surveys and mark ups to operations and planning group in a timely manner.
Miner 4 Sump Mucker
Operates Scooptram to remove materials from underground sumps, and occasionally help with pump changes. Reports to the Upper Longhole/ Construction Supervisor at Hoyle site.
Production Geologist
Interpret, collect and compile geological information, communicate with and direct underground production crews and provide support for the Mining department, the Engineering department, for underground operations diamond drilling, for reserve/resource calculations and for data management.
Project Controls Director
Senior level position providing mentorship and leadership to definition, development of and adherence to Newmont standards for controls systems, development and policies for multiple studies and programs.
Electrical Planner
As the planner, you develop maintenance plans in order of priority for preventative, shutdown, backlog, and ad-hoc underground maintenance work activities.
Mobile Maintenance Planner
As the planner, you develop maintenance plans in order of priority for preventative, shutdown, backlog, and ad-hoc maintenance underground work activities.