American Mine Door
American Mine Door's July 2015 e-Newsletter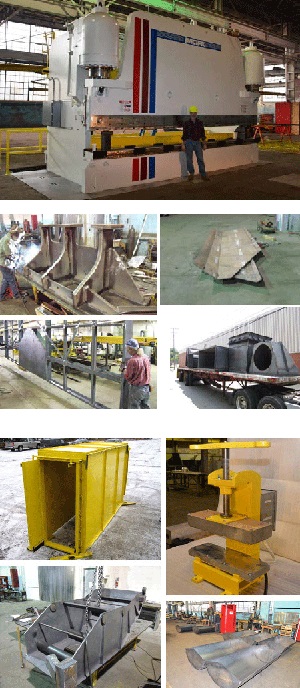 American Mine Door® - American Pride, American Work Ethic
Today, American manufacture is increasingly outsourced in the interest of cutting costs. Loss of jobs to home town workers, loss of quality, and loss of integrity are the price to be paid for such options.

Leading the Way for Over 100 Years
Since 1906, American Mine Door has maintained a strong tradition of made in the USA quality products and work ethic.
 We provide our customers with cutting edge technological solutions, and honest, American made products just as we have for 109 years.

Dedicated to Custom Fabrication
American tradition includes not only a strong work ethic, quality results, and the ingenuity to meet any challenge - but also a strong dedication to innovation and moving forward.
 
Recently American Mine Door added a rare offering - a 1000 ton press brake with the ability to brake pieces up to 20 feet long. Read more about our latest equipment additions, including our 1000 ton press brake and 8' X 20' Plasma table on our Custom Work and Services page.
 
You can also download our
Pacific Press Brake
flyer for more information. In addition to High Pressure Mine Doors, AMD now routinely fabricates a wide range of large, specialty industrial pieces few competitors can match.
Contact us today to find out how American Mine Door can serve you!

Providing Miners Greater Safety with Innovation through Automation
At AMD, our research and development team is dedicated to advancing mine door safety features and customizing PLC controllers for unique installations.
AMD's latest Door Collision Avoidance System provides warning lights and audible alarms to assist your drivers in getting through high pressure doors safely. By reducing repairs, delays, and downtime, AMD's collision avoidance system pays for itself.
Our new light curtain system for collision avoidance can be used with our own unique opposing wing high-pressure doors or retrofitted to assist with any existing mine door installation.
The system consists of four rib mounted sensors, one on each rib, on both sides of the approach to the mine door. Each light curtain is mounted a predetermined distance from the door, far enough to provide an effective warning to the driver if the vehicle strays from center.
Infrared light curtains, each with a coverage area of 1' x 11', are projected to within a few inches of the inside of the door wings. Watch our animation for a clear demonstration.
Interested in hearing more about our new the high-tech safety solutions AMD can provide you with? Call us at 216-432-3240 or complete our easy Contact Form today.


Track Cleaners
At American Mine Door® our Model 75 is a rugged, heavy-duty Track Cleaner ready to remove iron, copper, coal, potash, and salt debris from your tracked mine.
Designed to serve in a variety of underground mining environments, our Model 75 Track Cleaner operates while hitched to a locomotive.

Want to know more? View our page on Track Cleaners or Contact Us today!

High-Pressure Mine Doors 
As always, AMD is a provider of high quality, American made high pressure mine doors using a proven and simple design.
 
Our "high-pressure" door packages are typically used in high water gauge situations with heavy traffic requirements.
American Mine Door® calculates the amount of force placed upon the proposed door, using water gauge, height, and width to determine the amount of torque. Once we determine the amount of force (the more surface area and the higher the water gauge, the more force required to open and close the door), we advise each customer on proposed door construction (high or low pressure).
 
Interested in Quality, American Manufacturing? Contact AMD to Learn How We Can Serve You!
At AMD, we pride ourselves on our reputation to deliver quality results quickly, every time; we have been doing so for 109 years. Our goal is to treat every customer with utmost concern and deliver the same priority of service no matter the scale of your business or application.
 
Contact us today to learn what American Mine Door can do for you!
Source: http://www.minedoor.com/newsletter/2015-newsletters/july-2015.html