American Mine Door
American Mine Door's May 2015 e-Newsletter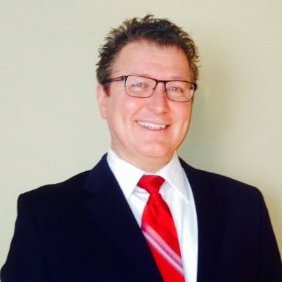 American Mine Door Welcomes New Vice President of Sales
In April, AMD welcomed a new Vice President of Sales to our growing staff: Pete Hallahan.
 
With over twenty years of successful sales leadership, Pete has worked with hundreds of manufacturing companies in assessing needs and delivering value added solutions that impact bottom line performance.
 
In 2006 Pete developed a sales team that was recognized by Inc. Magazine as one of America's 500 fastest growing companies.

 
Business Philosophy
 
Pete has always worked closely with engineering, manufacturing, and end-use customers to add real value through problem solving and sales process improvement.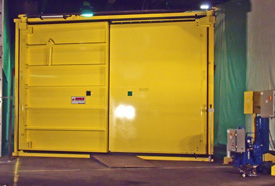 Pete attributes his success in business development to entering into strategic relationships with clients that not only deliver products but more importantly provide cost cutting, innovative solutions that help improve the customer's bottom line.


Business Objectives at AMD
 
Established in 1906, American Mine Door Co. manufactures custom high-pressure underground Mine Doors for the global mining industry. These custom manufactured Mine Doors provide economical, safe, efficient, and practical ventilation control for all types of track and trackless mines.
 
Pete understands the rich history of the American Mine Door and plans to expand on that 109 year reputation getting the word out to all mines for coal, uranium, salt, gypsum, clay, gold, potash, titanium, and molybdenum.
Expanded Offerings into other Products and Markets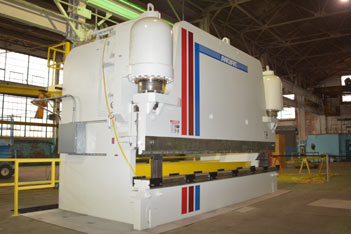 Pete believes in helping customers make smart buying decisions, not only for mine doors but also for products like Track Cleaners, Cable Vulcanizers, and other new product ideas that benefit mining operations.
 
Attentive to customer problems and challenges, Pete works closely with AMD's clients to find the right solution for every need, a challenge that is eminently practical when AMD's robust and expanding capabilities are taken into account.
 
AMD's dedicated, in-house fabrication facility includes a 1000 Ton Press Brake (To learn more about our new 1000 Ton Press Brake, download our informative
Pacific Press Brake
flyer) along with the lifting capacity to move 60,000 lb. pieces into place for bending; a rare combination in the industry.
Additional capabilities include: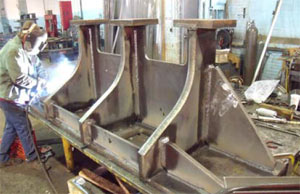 • Koike 96" X 240" Plasma Table, Water Table with 2" Sever Capabilities
• 1 plasma 60" x 120"
• plasma cutting table manufacturing capabilities american mine door12' x ½" shear
• 10' x 10ga. shear
• 2 CNC Vertical machining centers
• 2 CNC Horizontal machining centers
• 1 G&L 4" spindle floor type boring mill 3 Bridgeport milling machines with digital readout
• 1 10' high precision press brake
• 1 12' leaf brake
• 1 10' leaf brake
• 1 8' 3 pinch rolls
We will utilize our 109 year expertise in heavy custom fabrication to solve customer problems in and outside of the mining industry.

Contact Pete Hallahan at American Mine Door Today

Pete@minedoor.com 
Phone: 216-432-3240
American Mine Door, Co.
6200 Harvard Avenue
Cleveland, OH 44105

 
Request a Quote or Contact Us Today for more Information
 
We want you to know that AMD is more than a supplier of Mine Door technology; AMD is a proactive partner in ensuring the success of your heavy fabrication project. Let AMD be your total solution provider for your next big project and you'll stick by us for every one thereafter.
 
See why the world is now turning to AMD for the best in heavy fabrication and underground mine equipment, including Mine Doors, Cable Vulcanizers, and Track Cleaners. Call us at 216-432-3240 or visit our Contact Us page to discuss your needs with an American Mine Door representative.
Source: http://www.minedoor.com/newsletter/2015-newsletters/may-2015.html