American Mine Door
American Mine Door's November 2013 e-NEWSLETTER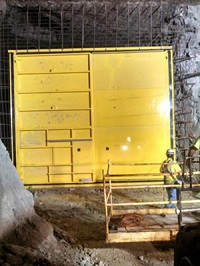 When it comes to personnel access through mine doors, at American Mine Door we offer some of the safest, most reliable man door solutions available in the industry today.
A sliding man door installed into the wing of our main pressure door offers egress for personnel without the need to swing the main doors. Whether for convenience or use in an emergency, our sliding man doors open and close even in extremely high water pressure.
AMD's sliding man doors are available in manual-close, self-closing, and fully-automatic operation.


Personnel Door Profiles

The installation in the image at right shows a 20' X 18' mine door with a sliding man door installed in the wing of the main door. This particular personnel door demonstrates a manual open and close design.
This represents a good example of an AMD mine door installation. Sliding doors in the wing are used when it is too difficult to excavate the sides of the tunnel, or in situations when an egress door is mandatory. After rebar is installed, the "walls" are then sprayed with cement. Once the cement has hardened, the walls become very strong and load bearing.

From left to right: Mine door with self-closing personnel door, mine door with personnel door in closed position, and self-closing personnel door with handle and shock absorber.


American Mine Door also manufactures 3 styles of standalone personnel doors. These include the opposing swing man door, the concave man door, and the sliding man door.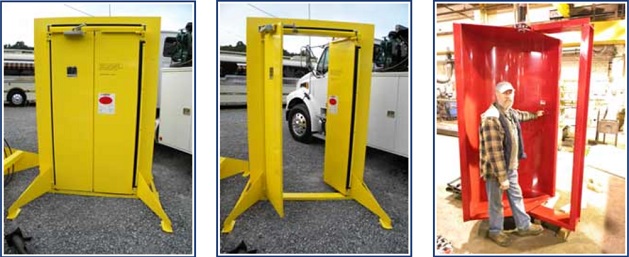 Source: http://www.minedoor.com/newsletter/2013-newsletters/november2013.html