Hose Power Canada
Announcing our new name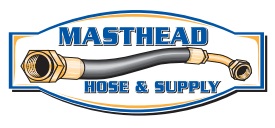 To our valued customers:
On January 1st, 2009, Masthead Hose & Supply will join the HosePower® Group and begin doing
business under the name HosePower® USA.
Our ownership and management will remain the same, and we will continue to offer the same great products and services, including Hose Boss™ mobile service and quality Flextral® products.
Under the HosePower® USA name, we have entered into a strategic alliance and marketing agreement
with two other service-minded companies to bring the highest quality hose service to customers throughout North America. In addition to our 14 locations in the Eastern U.S., Hose Power® will offer 11 locations in the Western U.S., three locations in Canada and two locations in Mexico. We have four fundamental reasons to join with Granberry Supply based in Phoenix, AZ and IPM Hose & Fittings based in Canada:

1. Customers ... by joining the Hose Power® Group we will more effectively attract customers with a
North America footprint. We will comprise North America's largest hose service company.
2. Vendors ... an ability to more closely coordinate our purchasing efforts, coupled with a clear
understanding created by our common name, will result in significant savings in relative product cost.
3. Cost Savings ... we can more easily create joint programs for advertising, employee training and
warehousing.
4. Ability to Service ... we can now offer our customers additional service centers and shipping
locations.
We look forward to meeting your needs through these expanded capabilities. Thank you for your continued
confidence in our team, and the ongoing opportunity to help you succeed in your endeavors.
J. Palmer Clarkson


President & CEO
Masthead Industries, Inc.
Source: http://www.hosepower.com/Portals/0/HP%20Name%20Change%20Announcement%20MH.pdf