Vale S.A.
Diversity and Inclusion as a lever for Cultural Transformation

Since 2019, we have been on an intense journey of cultural transformation, which necessarily involves the recognition of our role in society.
In this journey, inclusion and diversity gained central importance as allies in the pursuit of sustainability in our business.
The basis for this to happen is the establishment of a relationship with respect, listening, formal inclusion and zero tolerance for discrimination and harassment, anchored in open and transparent dialogues. We consider these elements essential in the construction of psychologically healthy environments.
According to Viviane Ajub, global manager of Diversity and Inclusion at Vale, promoting inclusion and valuing diversity will leverage the human potential that exists in our business. "We are evolving with the implementation of initiatives that aim to promote equity and opportunity to the most diverse talents in our society."
Awareness actions, training, affinity groups and inclusive selection processes are part of Vale's Diversity and Inclusion strategy.
To implement this strategy, Vale defined five priorities with the aim of becoming a truly inclusive company: Gender, LGBTQIA+, Ethnic-racial Diversity, People with Disabilities and Local Talent.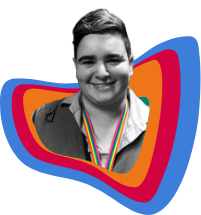 Pamella Almeida
"I believe in transformation! Since 2019, when I decided to take my speaking place, defending diversity and inclusion became my life purpose". This statement comes from the mechanical technician at the Carajás Mill, in Parauapebas, Pâmella Almeida, who voluntarily coordinates the LGBTQIA+ Affinity Group of the Northern Corridor, covering the company's operations in Pará and Maranhão.
"Today we are experiencing the work of building a more inclusive environment in the company. Vale is open and wants to hear from us. And it is committed to providing a safe environment that values all the differences and uniqueness of each one of us. As a representative of the LGBTQIA+ community in the company, I can say that we still have a long journey ahead of us, but we are moving forward, sensitizing leaders, co-workers, service providers, reinforcing the importance of diversity and respect!"
The Diversity and Inclusion strategy was designed in a scalable way that extends to all other dimensions. Check out some of the advances achieved since 2020 to date:
In December 2019, we set a goal of doubling the number of women in Vale's workforce, going from 13% to 26% by 2030.
Many initiatives have been successfully implemented, which has allowed us to increase the proportion of women from 13.5% (Dec 2019) to 17.5% (May-2021),
Resulting in 3,300 more women. Added to this, the rate of voluntary withdrawal of women has significantly reduced in the last two years.
Voluntary formation of affinity groups in the dimensions of gender, racial equity and LGBTQIA+;
Launch of the Diversity and Inclusion Policy;
More than 15,000 participations in webinars and conversation circles: Structural Racism; Gender Equity; Gender Identity and Sexual Orientation; Inclusion of People with Disabilities and Privilege;
More than 3,000 leaders trained in topics related to Diversity and Inclusion;
Global Trainee Program - In June 2021 144 newly graduated professionals began working, 68% women and 66% black;
Professional Training Program - More than 1,000 women from the communities where we operate were trained to take on a role in the mine operation;
Adhesion to the recently launched Movement for Racial Equity (MOVER), an initiative that brings together 45 companies that have made a public commitment to racial equity. Some of these commitments are the professional training of underrepresented communities and 10,000 black men and women in leadership positions;
Information and awareness campaigns for the inclusion of LGBTQIA+ people;
1st LGBTQIA+ Pride Celebration with a virtual show by renowned artists, bringing together more than 14,000 participations;
Exclusive campaign to attract talented people with disabilities in Brazil;
Carrying out the 1st Diversity Census;
Hidden or blind selection.
About hidden or blind selection
Since 2018, we have adopted the blind recruitment methodology (also known as hidden) in the selection processes for trainee programs, in order to prevent unconscious biases from influencing the choice of candidates and to promote a selection based on the assessment of potential and capacity future achievement. Thus, information such as gender, ethnicity, age, college, address, marital status, disabilities, among others, are omitted during selection. Vale has increasingly sought to highlight and leverage talent in its most diverse forms, people who will be an essential part of the company's cultural transformation process. Blind selection is part of this shift.
Source: http://www.vale.com/brasil/EN/aboutvale/news/Pages/diversity-and-inclusion-as-a-lever-for-cultural-transformation.aspx
Engineer-In-Training (EIT)
The successful candidate will be a member of the Vale's Ontario Operations and enrolled in a 48-month program that includes Application of Theory, Practical Experience, Management of Engineering Communication Skills, and Social Implications of Engineering which is the requirement for licensing as a Professional Engineer in Ontario. 
Technical Leader, Projects Sudbury
We are currently seeking a Technical Leader, Projects Sudbury to join our Exploration and Mineral Projects team in Sudbury. This is a permanent position.
Surface Construction Manager
We are currently seeking a Surface Construction Manager to join our Voisey's Bay Mine Expansion Project Team for our remote mine site in Voisey's Bay, Labrador, a fly-in fly-out operation. This project term position will be working from home office with regular travel to Voisey's Bay.
Manager, Exploration Voisey's Bay
We are currently seeking a Voisey's Bay Exploration Manager to join our Exploration team in St. John's and Voisey's Bay Mine site, Newfoundland and Labrador. This is a permanent position.
Manager, Exploration Thompson
We are currently seeking a Manager, Exploration Thompson to join our Exploration team in Thompson. This is a permanent position.
Maintenance Technician - Scaffolding
We are currently seeking a Maintenance Technician - Scaffolder to join our Maintenance Team at our remote mine site in Voisey's Bay, Labrador , a fly-in fly-out operation. This is a permanent position, with a 2 week on, 2 week off rotation.