Anixter Canada Inc.
FiberChek Probe Microscope From Viavi
The "all-in-one" handheld solution for fiber inspection.

The FiberChek probe builds on Viavi's industry leading expertise in fiber inspection to deliver a single "all-in-one" handheld solution that every fiber technician can rely on for all of today's fiber inspection needs in a fully autonomous, handheld device. With built-in capabilities for image viewing, auto-focus, Pass/Fail analysis, storing/recalling results, the FiberChek probe completely automates inspection workflow to ensure fast and accurate performance. Whether used as on its own or connected (WiFi, Bluetooth, USB) to other devices, the FiberChek probe is the essential fiber tool for every technician.
Benefits
Achieve fully autonomous inspection with an "all-in-one" solution.
Automate the inspection workflow.
Ensure accurate and  fast test performance.
Easily access connections in any location.
Connect with anything and test anywhere!
Applications
Inspecting fiber end faces: both patch cord and bulkhead.
Guaranteeing endface condition with certification reports.
Instantly capture, analyze, and grade fiber end face images and obtain a PASS/FAIL result according to pre-configured criteria setting.
Key Features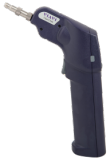 Integrated touch screen with live fiber viewing.
Auto-Center.
Auto-Focus.
Built-in fiber endface analysis.
User-selectable acceptance profiles.
Stores results on device or export.
Bluetooth, WiFi, and USB connection capabilities.
Source: https://www.anixter.com/en_ca/about-us/news-and-events/news/fiberchek-probe-microscope.html
Vendor Management Inventory Associate (OnSite)
 Our continued growth has created a need for a full time Vendor Management Inventory Associate position to work onsite with the customer near Richmond, VA. If you want to become a part of our winning team, we want to hear from you.
Digital Marketing Strategy Manager
We are seeking an experienced, proactive digital marketing strategy manager.  This manager is a thought-leader responsible for overseeing the digital marketing strategy of Anixter's Network and Security Solutions division.
Warehouse Supervisor
We're looking for a well-rounded warehouse supervisor for our Anaheim Distribution Facility.  The warehouse is 100,000-sf and primarily supports our West Coast business.
Bilingual (Eng/Fr) Inside Sales & Customer Service Representative
Understands Echologics' value proposition and market information and trends to maximize inside sales; Demonstrates how Echologics solutions can help customers with effective and efficient leak detection and condition assessment of water infrastructure non-invasively and without disrupting water services.
Principal QA Engineer
Develop, document and maintain automation test code/infrastructure, test plans, and tools. Bring pragmatic, methodical, engineering driven solutions to all verification tasks. Etc.
Project Administrator
About a quarter of the world's drinking water leaks out of aging underground pipes before reaching anyone's tap. Echologics is helping to lead a global charge to change this through technological innovation. 
Inside Sales Representative
Our Mississauga office is looking for an Inside Sales Representative to develop new business opportunities while providing exceptional service to existing customers. 
Inside Sales Representative
Anixter Toronto OEM West is located in Mississauga and is looking for an Inside Sales Representative to develop new business opportunities while providing exceptional service to existing customers. 
Product Specialist
Positioning of project opportunities and strategic conversations with Anixter's vendor partners prior to, during, and after the quote stage – in line with Corporate initiatives, etc.