American Mine Door
Happy Thanksgiving from Your Friends at American Mine Door!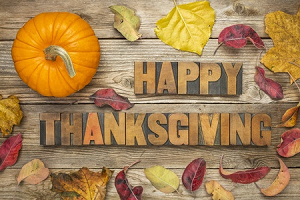 We at American Mine Door would like to wish the many customers and contacts who have helped us to grow through the years a very happy Thanksgiving Holiday!
We sincerely hope that you are able to share this time with family and friends and that your holiday is filled with cheer and good company.
We're sure your business has faced many challenges this year, overcome setbacks, enjoyed successes and endured some disappointments. It's that time of year to step back and take stock of the things you're thankful for.
At AMD, we know that there are five special things that we are thankful for this year.
Five Things AMD is Thankful for
At AMD, we would like to share with you some of the things we are most thankful for.
Our People
The dedicated and highly experienced staff that makes AMD work.
What is a company but a group of people working together to achieve a common goal? At AMD, we value our employees more than anything else and we truly believe that the experience and dedication of our crew is what gives us our advantage in the industry.
Check out our Fabrication Team Newsletter to learn more about our project experts Adam, Bob, and Matt and how the people at American Mine Door are what makes the difference.
Our Ability to Solve Problems for Our Customers
At American Mine Door, our deep rooted manufacturing heritage and diverse staff leave us with the ability to tackle a wide variety of challenges and problems. This problem solving ability really sets us apart from the rest of the industry and puts American Mine Door on the cutting edge.
Read our Problem Solving Newsletter to learn more about how AMD can come up with solutions to meet a variety of industry challenges.
Our Newly Launched Custom Fabrication Division: AMD Fabrication

This year, AMD has launched our dedicated fabrication service: AMD Fabrication. 
AMD Fabrication provides extensive heavy machining capabilities including turning, milling, boring, and grinding as well as advanced custom fabrication capabilities. 
We have the equipment and personnel to handle a wide array of machining applications from small, high production parts to large, complex one-piece custom parts.
Our machining skills, used along with our other capabilities and equipment, allow us to offer single source solutions for your project requirements.
Learn more on the AMD Fabrication page or view our Fabrication Gallery to see more. 
Our Newest Addition to Our Extensive Array of Heavy Fabrication Equipment: The 1000 Ton Press Brake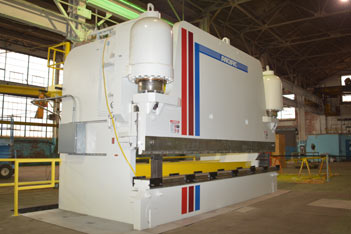 With a 1000 ton capacity, our new press brake can form sheets of A36 structural steel up to 7/8" thick and 20 feet long. The distance between the housings measures in at 218."
AMD Fabrication's experienced brake crews can form a wide variety of shapes up to 20' wide. These include cones, cylinders, segments, compound curves, pipes, reducers, transitions, knuckle segments, dished plates, and more.
See more pictures in our Fabrication Gallery or read our Press Brake Newsletter to learn more!
Our Customer Service Staff
When you hire AMD, you're not just hiring another company. American Mine Door employs a customer service staff whose sole purpose is to ensure that you receive the best service possible.
Our customer service staff works hard to help customers solve problems, assure quality, and be a partner in your success.
Find out how the customer service staff at American Mine Door is able and ready to serve you on our customer service page.
A Special Thanks to All of Our Customers Through The Years
So, this Thanksgiving, we at American Mine Door would like to offer a heartfelt thank you to all of our customers. Thank you for valuing the service and quality products provided by AMD, and most of all, thank you for making us a leader in the mining equipment industry for over one hundred years.
We hope to be with you all for many years to come, continuing to provide the same levels of quality and service that we've always been known for.  
Interested in Quality, American Manufacturing? Contact AMD to Learn How We Can Serve You!
At AMD, we pride ourselves on our reputation to deliver quality results quickly, every time; we have been doing so for 109 years. Our goal is to treat every customer with utmost concern and deliver the same priority of service no matter the scale of your business or application.
Contact us today to learn what American Mine Door can do for you!
Source: http://www.minedoor.com/newsletter/2015-newsletters/november-2015.html