Workplace Safety North / Ontario Mine Rescue
Mine Rescue Teams from District Converge on Timmins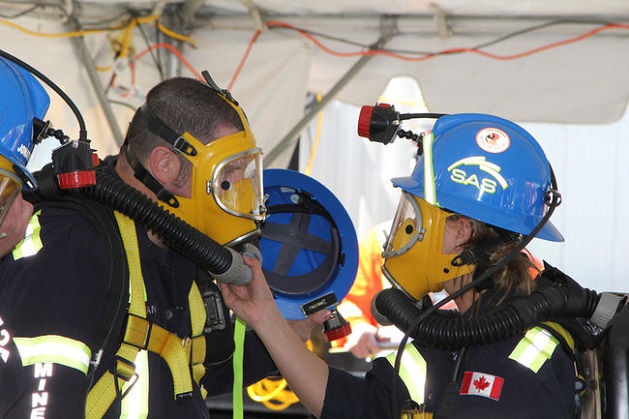 TIMMINS - It's Ontario Mine Rescue competition week in Timmins. Beginning today and carrying through to Friday, mine rescue teams from Timmins and Kirkland Lake will be taking part in a double district competition.
Two of the North's best-known mining communities will be holding their annual district events at the McIntyre Arena with four teams competing for the Timmins district title and four teams vying for the Kirkland Lake district title.
Competing for the bragging rights in Timmins are Glencore Kidd Operations who are last year's local winners, Goldcorp Porcupine Gold Mines, Lake Shore Gold and Dumas Mining. Competing for the Kirkland Lake title are Kirkland Lake Gold Inc., AuRico Gold, SAS St. Andrew Goldfields Ltd., and Primero Gold Black Fox Mine.
By Friday night, two teams will emerge as district winners and with that they also win the right to represent their district at the All-Ontario Mine Rescue competition which is to be held in Thunder Bay on June 11 and 12.
Timmins Mine Rescue officer Manny Cabral said the annual competitions are important to the overall mine rescue program because the competition teams learn from the annual exercise and bring that knowledge back to their mine rescue colleagues at their particular mine.
He said that is the same reason that the teams do not always consist of the same people year after year after year.
"So the value is not just the competition we do, which is done as realistically as possible, but the value is also for all the other people in the organization," explained Cabral. "They get to learn. They get to bring their skills and their understanding of emergency preparedness to a higher level."
He said the mock scenario that will be carried out in the darkness of the McIntyre Arena these next few days is not created to try to stump the competitors, but to challenge them and get them to learn more.
"The scenario is very important," said Cabral. "This year's competition is the same competition all across the province in the seven mine rescue districts."
He said the scenario, which is a secret, has been written by veteran mine rescue officers Duane Croswell from Thunder Bay district and Wayne Baker of Kirkland Lake.
The scenario will have some familiar elements for experienced mine rescuers, but there are always new elements and maybe some surprises, Cabral explained, saying the event is written to keep the rescue knowledge current and relevant.
"What have we learned in the past few years? Where is mine rescue going? What do we need to improve on? What's the message we want to send in terms of how to be prepared for emergencies? Those things are crucial in preparing the scenario," said Cabral.
He added the key elements of the competition scenario are eventually included in the regular training for the everyday mine rescuers.
In Ontario, every operating mine must have mine rescuers on duty during every shift. They could be miners, millwrights, or shop mechanics. They are all volunteers and through the course of the year, they take training and learn about new equipment, new methods and new procedures.
"So in our regular training, everybody gets the chance to see what the message was, what we are trying to accomplish and everyone can understand what we're trying to do," said Cabral.
All the teams in the competition are to be graded on how well they respond to the emergency, which usually involves some sort of an underground fire, often with persons who are trapped or injured. From there, several sub-scenarios are created. There might be the presence of poison gas. There might be a cave-in or fall of ground, trapping the victims. There might be live electrical wires hanging down. There might be unstable explosives. The rescuers have to be ready to tackle any situation, said Cabral.
Here's the thing; the identical scenario is presented to each mine rescue team, in succession, over the three-day period. While the event is public in the sense that people can watch the mine rescuers go through their paces, there is an honour system in place so teams that follow the first team do not get dishonourable advantage by viewing photographs or having people listen in to the briefings and debriefings.
Alex Gryska is the director of Ontario Mine Rescue for Workplace Safety North. He spoke about the secrecy issue last summer, when the all-Ontario mine rescue competition was held at Goldcorp's Dome Mine in Timmins.
"There is so much effort that teams put into this in order to do the best performance, so certainly if information was released between teams it would absolutely destroy the integrity of the competition," said Gryska.
He said all teams are advised in advance not to discuss the emergency scenario with any other teams. For the same reason, photography is discouraged when the mine rescuers are actively involved in a competition scenario.
"These guys are pretty smart, okay," said Gryska, adding that experienced mine rescuers would know precisely what a photograph might reveal.
For example a seemingly harmless cellphone photo posted on Facebook could easily reveal too much information. Gryska said a picture of a mock patient wearing a splint would reveal fractured limbs were part of the scenario. A photo of a mine rescuer with an air tool, or hydraulic tool, could indicate an accident involving heavy equipment.
"It would certainly give another team an unfair advantage," he said.
Source: http://www.timminspress.com/2015/05/06/mine-rescue-teams-from-district-converge-on-timmins