Anixter Canada Inc.
RFS Upgrades NBC 5 and Telemundo 39 Dallas-Fort Worth with Future-Proof Broadcast Technology Ahead of Spectrum Repack

Radio Frequency Systems (RFS), a global wireless and broadcast infrastructure specialist, is providing future-proof equipment for NBCUniversal to improve its two Dallas-Fort Worth stations' ability to prepare for the imminent U.S. broadcast television spectrum repacking program. The project replaces two existing pylon antennas with a single broadband antenna that can operate over the entire UHF television band. The new system will employ RFS' patented Variable Polarization Technology (VPT), allowing each station to select independent polarization ratios that can easily be changed in the future with a simple adjustment in the transmitter room.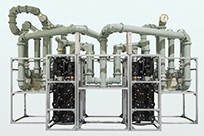 The NBCUniversal Owned Television Stations' contract with RFS includes provision of RFS' PEP Lite antenna, which is both frequency agile (covering the full UHF array) and polarization agile. It has low wind loading characteristics compared to other broadband designs. 
The broadband performance of RFS' PEPL-56D antenna provides an ideal solution for broadcasting groups that own two or more stations in one market. In the case of NBC Dallas-Fort Worth, PEPL-56D will accommodate both NBC 5 / KXAS and Telemundo 39 / KXTX on a common antenna, each with its own polarization ratio. RFS' unique VPT will allow both stations to individually set their respective polarization ratios, independent of one another. It will also allow for future polarization ratio changes without replacing or even climbing the antenna, as upgrades and changes can be made from inside the transmitter room. 
Source: https://www.anixter.com/en_ca/about-us/news-and-events/news/rfs-upgrades-nbc-5-and-telemundo-39-dallas-fort-worth-with-futur.html
Vendor Management Inventory Associate (OnSite)
 Our continued growth has created a need for a full time Vendor Management Inventory Associate position to work onsite with the customer near Richmond, VA. If you want to become a part of our winning team, we want to hear from you.
Digital Marketing Strategy Manager
We are seeking an experienced, proactive digital marketing strategy manager.  This manager is a thought-leader responsible for overseeing the digital marketing strategy of Anixter's Network and Security Solutions division.
Warehouse Supervisor
We're looking for a well-rounded warehouse supervisor for our Anaheim Distribution Facility.  The warehouse is 100,000-sf and primarily supports our West Coast business.
Bilingual (Eng/Fr) Inside Sales & Customer Service Representative
Understands Echologics' value proposition and market information and trends to maximize inside sales; Demonstrates how Echologics solutions can help customers with effective and efficient leak detection and condition assessment of water infrastructure non-invasively and without disrupting water services.
Principal QA Engineer
Develop, document and maintain automation test code/infrastructure, test plans, and tools. Bring pragmatic, methodical, engineering driven solutions to all verification tasks. Etc.
Project Administrator
About a quarter of the world's drinking water leaks out of aging underground pipes before reaching anyone's tap. Echologics is helping to lead a global charge to change this through technological innovation. 
Inside Sales Representative
Our Mississauga office is looking for an Inside Sales Representative to develop new business opportunities while providing exceptional service to existing customers. 
Inside Sales Representative
Anixter Toronto OEM West is located in Mississauga and is looking for an Inside Sales Representative to develop new business opportunities while providing exceptional service to existing customers. 
Product Specialist
Positioning of project opportunities and strategic conversations with Anixter's vendor partners prior to, during, and after the quote stage – in line with Corporate initiatives, etc.