Timmins Mechanical Solutions
There's no time for down time! There's always a solution.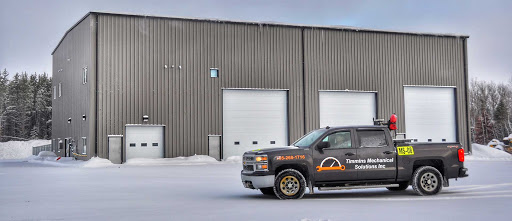 The mining industry depends on a wide range of ever sophisticated machinery to produce products, excavate minerals, build, pave or repair roads, bridges and operate water and sewage treatment plants and equipment breakdown and failure can be devastating for the bottom line!
But you have no need to worry, Timmins Mechanical Solutions (TMS) is there to provide timely, effective repairs to that valuable piece of machinery on location or in the shop.
"What makes us unique is we go all out to provide fast effective professional services to our clients," explains Eddy Lamontagne, the Director of Sales and Business Development for Timmins Mechanical Solutions.
"We know that mechanical breakdowns cost our clients delay, time and money," It's our job to expertly repair the equipment and get them back working on the job," Lamontagne adds.
In March 2020 Timmins Mechanical Solution will be moving into their new expanded repair and service shop. The facility will be located at 4555 Highway 101 West, across from the West Timmins trailer park.
It was time to expand the shop and equip it with the inventory, state of the art tools and large cranes required to meet the needs of the heavy equipment and mining community here in northern Ontario.
Lamontagne explains the features that sets Timmins Mechanical Solutions apart from the others. "We provide hands on and direct contact from Chad Tolenen, the owner, of TMS to the end user," says Lamontagne. "All our management personnel are also licensed mobile mechanics".
From the left: Garry Tolonen, Eddy Lamontagne, Tony Porritt, Chad Tolonen (Owner/operator) and Richard Daigle
"TMS also works on all types, makes and models of equipment and we are constantly learning and upgrading our knowledge sets by understanding the latest technological and software developments in the industries we serve so we are current on cutting edge equipment as well as the standard tested and true equipment."
Anyone who has experience working with heavy equipment machinery knows when it breaks down often the cause of the malfunction is not readily clear. Lamontagne's emphasis is very strong on trouble shooting especially electronically based equipment.
"We perform repairs, service, overhaul aging equipment and provide our licensed mechanics on loan to a company for a period through our "men on loan" service," says Lamontagne.
TMS will open their new 12,000 square foot shop which will mean hiring 10 more employees bringing the staff complement to 29 employees. "One of the benefits is that we will be able to perform work on larger equipment," Lamontagne points
out. "We also will become a dealer and start selling equipment in addition to the repair services we provide."
The owner Chad Tolonen developed an interest in mechanics when he was a 15-year-old high school student. He worked for Caterpillar dealer for about 10 years before starting his own business. Chad is looking forward to the move into his new shop which is scheduled for March 2020. Some of the challenges TMS faces is keeping pace with the ever-changing equipment that comes on the market with new software and new technology.
Timmins Mechanical Solution makes constant learning and constant training part of their philosophy so they can best serve their clients. When faced with adversity you go the extra mile to solve the problem, that at first seemed impossible to solve. It is what we believe in!
TMS' vision statement is "Combining our experienced workforce, expanding facility, superior technician and best available parts. We are striving to become known as a preferred supplier to maintenance people in Ontario.
Source: https://issuu.com/canadiantradex/docs/89536-1-cdn_trade_website
HEAVY EQUIPMENT TECHNICIAN
We are growing again and looking to hire a licensed Heavy Equipment Mechanics that strive to be the best. Our dynamically driven team is looking for someone who wants to help realize the business' growth potential in this trade.