Maestro Mine Ventilation
Ventilation monitoring, the way to safer worker conditions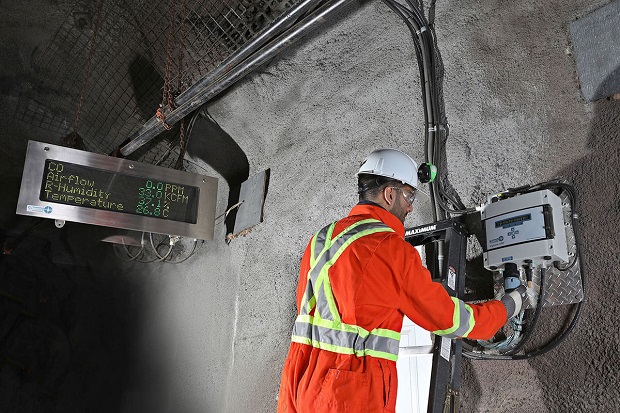 MAESTRO DESIGNED AND DEVELOPED DIGITAL GAS SENSORS TO ADDRESS THE CHALLENGES OF UNDERGROUND MINING. THESE CAN BE "HOT SWAPPED" BY A VENTILATION TECHNICIAN WITHOUT THE NEED OF UNDERGROUND CALIBRATION.
Built with IIoT functionality, the digital sensors come with a complete suite of diagnostics that helps determine the health of the complete system, providing maximum system uptime.
The Vigilante AQS™ and the Zephyr AQS™ are both used to monitor the environmental conditions underground. The Vigilante AQS™ provides an optimum system with up to eight different real-time sensors, advanced diagnostics and control functions. The Zephyr AQS™ Station is a lower cost system that uses the same reliable sensors and advanced diagnostics but with only three different real-time sensors on-board. The Zephyr AQS™ will handle approximately 75% of the current applications at a lower cost. Both systems plug directly into a network switch, thus eliminating the requirement of expensive and complex programmable logic controllers. Mines then get to eliminate up to 50-80% of the CAPEX requirements. Maestro continues to develop products that are fully open and agnostic using industry standard communication protocols such as Modbus TCP/IP and EtherNet/IP.
Maestro has developed ventilation solutions that reduce downtime and enable miners to return to the face faster and safer.
Source: https://www.maestrodigitalmine.com/news/ventilation-monitoring-the-way-to-safer-worker-conditions