Wajax Industrial Components
Wajax Throttle Up for a Cause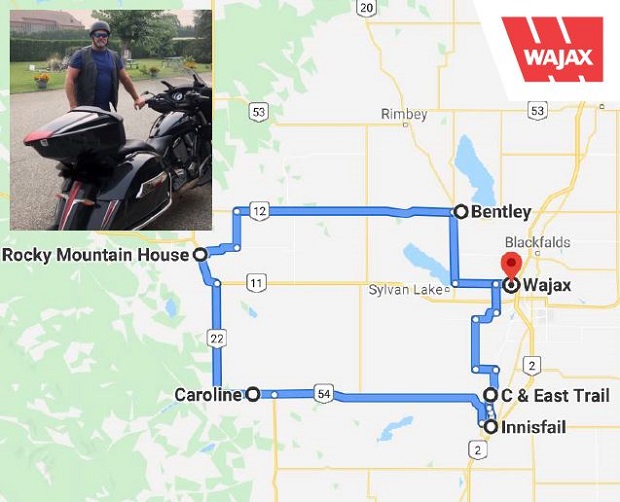 JOIN WAJAX BIKERS JULY 24TH FOR AN AFTERNOON OF HITTING THE OPEN ROAD TO RAISE MONEY TO SUPPORT FRONTLINE WORKERS
DATE: July 24th, 2020
TIME: 11:30AM Meet and 1:00PM Kick Stands Up – 3.5 hours
with 3 stops 4:30-5:00PM Finish
LOCATION: Red Deer branch
123 Queensland Crescent, Red Deer, AB, T4P 2P6
ROUTE: See map below
FEE: Entry $20, Poker $10 Buy in
Riders are encouraged to can get additional sponsorship.
Please note we will be following proper safety measures and adhere to social distancing.
Source: https://www.wajax.com/news/wajax-throttle-up-for-a-cause/
Service Manager
Accountable/responsible for ensuring parts and service requests are fulfilled at a high standard of quality to customers by quoted delivery date; ensuring consistent application and administration of the company's parts, service and warranty programs.
Electro-Mechanic
Responsible for overseeing production of a designated area, while assisting in the daily planning. This role will require 20% daily capacity of leadership functions.
Credit Specialist
Analyze credit data and financial statements to determine the degree of risk involved in extending credit or lending money. Prepare reports with credit information for use in decision making.
Product Support Representative
Prospect and source new customer opportunities within defined territory through development of a Strategic Prospecting Plan. 
Shipper/Receiver
Responsible for the safe flow of industrial goods in and within the branch or warehouse. 
Machinist
Working inside a large (33,000 square foot) general machine shop. Responsible for rebuilding hydraulic cylinder components (core business), rebuilding attachments for construction/forestry machinery and rebuilding sawmill and planer mill components.