Vale S.A.
Woman, trans and programmer in Vale's operations: learn about Ágatha Coura's trajectory, challenges and achievements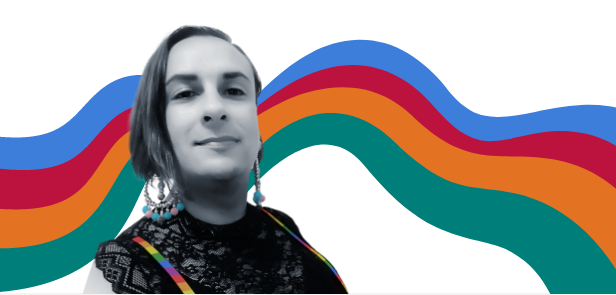 Ágatha Coura has been part of the Vale team for 12 years. The professional, trained as a mechanic technician, began her career at the company in 2009 as a mechanic. Over the years, Ágatha has worked in the areas of mine equipment inspection and activity planning up to the position she currently holds as a programmer, at Vale's operations in Minas Gerais.
The programmer's job is to plan mine equipment shutdowns and verify the necessary maintenance plans for this equipment, ensuring safe and smooth operations
I started two superior education courses; I didn't finish any of them. At that time it didn't make sense to finish them. That is something very personal to say, because when we talk about something that isn't right inside us, it impacts all spheres of our life.
Ágatha says that she has suffered from locker room jokes throughout her life, due to her expression of the female gender. However, she reports that when she decided to assume her gender identity within Vale, that was the moment she felt most welcomed and safe to be who she was, without fear. Today, Ágatha believes she is a privileged person for having worked for 12 years at the same company, which she considers her second home and feels welcomed by her colleagues and leadership.
Ágatha found her true calling in operations, but the professional says the path to get there was not an easy one. Before starting at Vale, she began studying Engineering and Information Systems, but did not complete them. All of this was part of an intimate process of personal and professional discoveries by Ágatha, who already identified herself as a woman.
Pride is very much related to the feeling of accomplishment. Of satisfaction. Of achievement. It is very difficult to take a step and show everyone who Agatha is, publicly. I've always worked in maintenance environments with lots of men and there's a lot of prejudice surrounding it.
Today, Ágatha uses her experience and her voice to help others in the LGBTQIA+ community and beyond through our Affinity Group. For her, helping to teach and welcome people, by fostering diversity, is essential for us to create an environment that is more humanized every day. By raising this flag, Ágatha has become an example for other people and she helps to make Vale a better place every day.
One day, during the night shift, I was talking to a colleague and he told me his son had just come out as a homosexual and he was having a hard time with it. It is so cool to be able to help a father with that in the workplace. He had that 'it is the end of the world, my son told me he wants to have a relationship with men' kind of mentality. It was hard for him! Being able to talk a little about it and help him see, naturally, that his son is still his son, is really cool!
Source: http://www.vale.com/brasil/EN/aboutvale/news/Pages/woman-trans-and-programmer-in-vales-operations-learn-about-agatha-couras-trajectory-challenges-and-achievements.aspx
Engineer-In-Training (EIT)
The successful candidate will be a member of the Vale's Ontario Operations and enrolled in a 48-month program that includes Application of Theory, Practical Experience, Management of Engineering Communication Skills, and Social Implications of Engineering which is the requirement for licensing as a Professional Engineer in Ontario. 
Technical Leader, Projects Sudbury
We are currently seeking a Technical Leader, Projects Sudbury to join our Exploration and Mineral Projects team in Sudbury. This is a permanent position.
Surface Construction Manager
We are currently seeking a Surface Construction Manager to join our Voisey's Bay Mine Expansion Project Team for our remote mine site in Voisey's Bay, Labrador, a fly-in fly-out operation. This project term position will be working from home office with regular travel to Voisey's Bay.
Manager, Exploration Voisey's Bay
We are currently seeking a Voisey's Bay Exploration Manager to join our Exploration team in St. John's and Voisey's Bay Mine site, Newfoundland and Labrador. This is a permanent position.
Manager, Exploration Thompson
We are currently seeking a Manager, Exploration Thompson to join our Exploration team in Thompson. This is a permanent position.
Maintenance Technician - Scaffolding
We are currently seeking a Maintenance Technician - Scaffolder to join our Maintenance Team at our remote mine site in Voisey's Bay, Labrador , a fly-in fly-out operation. This is a permanent position, with a 2 week on, 2 week off rotation.