Midland Exploration Inc.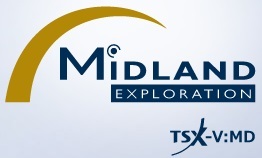 Midland Exploration is a dynamic and aggressive mineral exploration company focused on gold, PGE's, base metals and REE mine discoveries in one of Canada's richest mining provinces, Quebec. The company is listed on the TSX Venture Exchange. The company is led by a highly-respected management and technical team with a proven mine-finding track record.
Midland intends to generate new attractive projects and seeks opportunities through industry partnerships (JV Model). The company recently optioned to Teck Resources Limited its Patris gold property and to Donner Metals Ltd its Valmond gold project. Two other gold projects, Cadillac-Maritime and Laflamme, are currently in joint venture with Agnico-Eagle and Maudore Minerals Ltd. respectively. Midland also has the Ytterby project, a rare earth project located near the REE Strange Lake deposit, in northern Quebec in joint-venture with Japan Oil, Gas and Metals National Corporation.
Midland fully intends to continue securing new partnerships for its recently acquired properties.
Contact Us
Head Office
1, Place Ville Marie, bureau 4000
Montréal (Québec)
H3B 4M4

Exploration Office
132 boul. Labelle, bureau 220
Rosemère (Québec)
J7A 2H1
Phone : 450 420-5977
Fax : 450 420-5978