Tembo Gold Corp.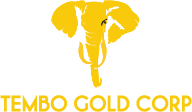 Tembo Gold Corporation is a Canadian listed gold exploration and development company, focused on projects in Tanzania and the rest of Africa. The company is led by a top quality management team with extensive Tanzanian and African gold exploration, mine development and operations experience.

The company's flagship asset is the Tembo Gold Property located in the prolific Lake Victoria goldfield district, a geological terrain and mining belt hosting several multi-million ounce deposits.
Tembo Gold is currently focused on an extensive drill program on its Tembo Property targeting several priority target areas.
Contact Us
Tembo Gold Corporation
391 Oliver Road,
Thunder Bay, Ontario
Canada, P7B 2G2
T:+1 (416) 907 4148
E:info@tembogold.com
Tanzania Office
Plot 1215 Slipway Rd,
Masaki, Dar es Salaam
Tanzania