Zimtu Capital Corp.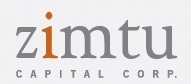 Zimtu Capital Corp. (TSX-V:ZC FSE:ZCT1) is a publicly held investment issuer focused on private, micro- and small-cap resource companies.
Zimtu's focus is building new resource issuers and investing in early, private, and seed level opportunities. For investee companies Zimtu can provide active participation in management, business experience and guidance, and early-stage risk capital. For our investors Zimtu provides access to a portion of the market not normally available to them.
Zimtu also locates and acquires mineral properties of merit and connects them with public resource companies. Projects are normally acquired on a 50-50% basis with geological and prospecting partners with proceeds from sales split the same.
Zimtu has funded or launched several companies including: Commerce Resources Corp., Evolving Gold Corp., and Western Potash Corp. The success of these companies and Zimtu's consistent, long-term results has earned unprecedented loyalty among our shareholders and the respect of our partners and peers.
Zimtu currently holds investments in marketable securities, and has cash available for future investments and opportunities.
Contact Us
Head Office
Suite 1450 - 789 West Pender Street
Vancouver, BC
V6C 1H2 Canada
Tel: 604 681 1568
Fax: 604 681 8240
Toll Free: 877 377 6222
Email: info@zimtu.com
Toronto office
416 364 0303
501-133 Richmond Street West
Toronto, Ontario
M5H 2L3 Canada
David Hodge
President
dhodge@zimtu.com
604 681 1568 ext. 223
Sven Olsson
Director
solsson@zimtu.com
+49 7161 290 967