Maestro Mine Ventilation
AirScout™ Flowmeter
The revolutionary AirScout™ Flowmeter has transformed the measurement of airflow in underground mine drifts, tunnels and primary or booster fans.
The AirScout™ Flowmeter can be used in dusty, dirty and humid conditions with no effect on measurement or accuracy. In fact, the airflow is averaged between the two non-contact ultrasonic sensors ensuring the highest accuracy and repeatability in these challenging applications.
Reduce ventilation surveys with real time monitoring
The AirScout™ Flowmeter provides real time measurement without costly and outdated surveys. Real time measurements can be integrated directly into most advanced mine ventilation simulation software or OSIsoft's PI data historian through MaestroLink™ software.
Get measurement data today

The AirScout™ Flowmeter or any other Maestro AQS can be easily integrated in any analog, serial or Ethernet network. Just select your method to connect, configure the simple web pages through Windows Explorer and start collecting data. No fuss – no muss – no proprietary software!!
Drifts, tunnels or shafts – no problem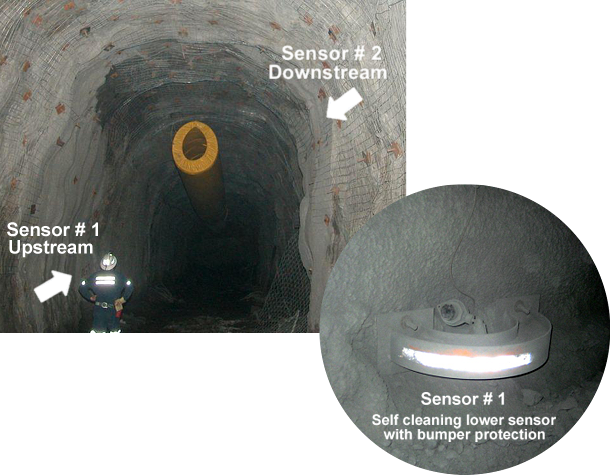 The digital ultrasonic sensors are a snap to install in any mine drift, tunnel or even mine shaft. The ultra-compact design allows a small form factor for easy placement in most applications. The technology is based upon using non-contact ultrasonic sensors with a range of over 85' in most difficult applications. The measurement is unaffected by dust concentration, moisture and temperature changes making it the only ideal solution in a mining environment. The airflow velocity is averaged between the two sensors leading to superior accuracy and repeatability in even the most demanding conditions.
Rigid steel or plastic ducting – no welding required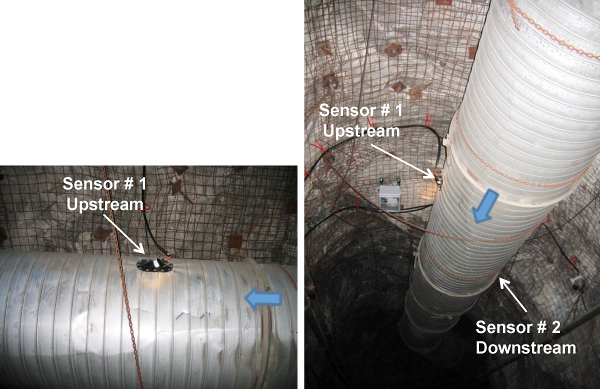 Many mines utilize either rigid spiral wound round/oval ducting or plastic welded ducting sections to augment flexible fabric ducting. Maestro's Duct Mounting sensors provide the ideal connection to any rigid duct work without the need of welded fittings or special hardware. The mounting bracket is flexible and adjusts to any size of duct work from 24" (600 mm) upwards.
Primary and Booster Fans – the only solution!

Mine fans are the most difficult application for any airflow measurement technology - period. Ask any person that has done a pitot tube traverse.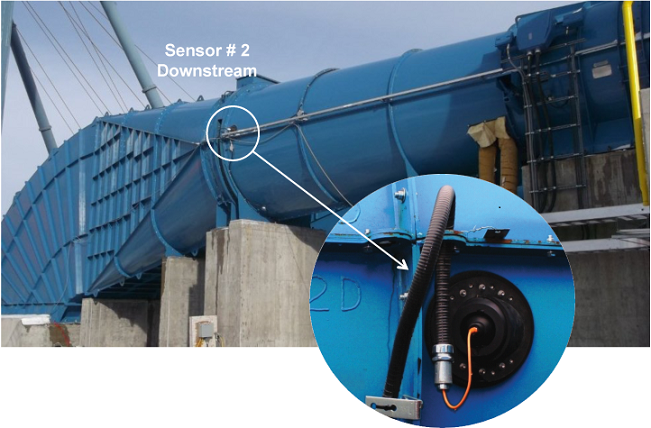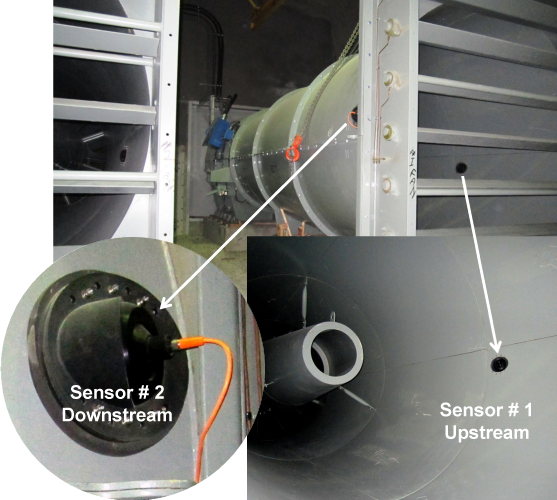 Fan applications especially those over 700 HP (500 kW) have severe mechanical vibration, turbulent and uneven flow profiles due to high air speeds through the fan housing and directional changes in flow. This and electrical noise due the use of VFD (variable frequency drives) require the use of specially designed ultrasonic airflow sensors to provide a suitable stable but responsive measurement. The Maestro digital airflow sensor has been designed to overcome these challenges while the mounting bracket provides simple integration in all fan applications.