American Mine Door
Cable Vulcanizer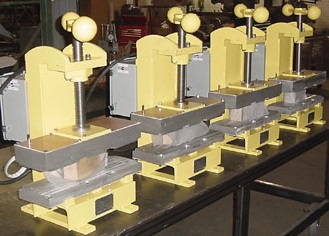 When using flexible trailing cable in a mine, damage is a fact of life.
Reducing downtime is a high priority. American Mine Door's cable vulcanizer offers sturdy construction that stands up to heavy use.
Our light weight aluminum frame model allows for easier transporting from point to point in and out of the mine.

Our steel frame cable vulcanizer is favored inside many cable repair shops. With our steel frame unit weighing in at 152 lbs and our sturdy aluminum frame cable vulcanizer coming in at a mere 75 lbs, portability can be taken for granted.

The innovative and proven design of American Mine Door's cable vulcanizer has been used in the mining industry for years, making jobs easier and safer.
• Steel Frame Cable Vulcanizer (less handle) 152 lbs.
• Aluminum Frame Cable Vulcanizer (less handle) 73 lbs.
Features of AMD Cable Vulcanizers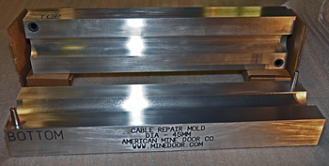 • Accepts most mine cable molds
• Fast clamping action
• Easy to load and unload
• Sturdy construction will withstand the mining environment
• Open front - no tie bars
• Snap action thermostats
• Indicating lights
Components of Cable Vulcanizer
Voltage

Watts

Platens

Bench Space

Set Temperature

Temperature Adjustable

Acme Screw

Net Weight

Throat Opening Standard

Throat Opening High Back

Most

3000

6-1/2 x 20

16 x 20

300 degrees

240 / 350 degrees

1-1/2 - 4 thread

150lbs.

6 inches

10 inches


Want to know more?

Contact Us today, or: