Boart Longyear Canada
LX™10
• Multi-purpose drilling capabilities and uses
• Hydraulic mast raising
• 15 ton pull back
• Advanced load-sensing power pack
• Optional rotary head with rod-assist system
• Optional automatic SPT hammer for testing and sampling
• Wide range of available options
LX™10
Our most powerful geotechnical drill rig, the LX10 (DB540) is capable of both wireline and conventional coring, as well as DTH, rotary and auger drilling methods with torque up to 10000 Nm, rotary speeds up to 800 rpm, and 15 tons of pull back. The rig is equipped to handle double head rotary drilling for geothermal work, and a standard 147 kW load-sensing power pack ensures power availability when it is needed.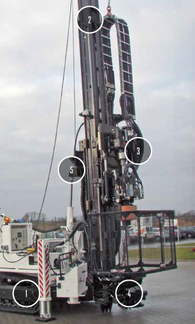 1. Powerful Steel Crawlers
Ensure mobility on difficult terrain.
2. 1,000 mm Mast Dump
For improved positioning on rough terrain
3. Standard Hydraulic Side Shift
For easy rod-pulling and clear access to center line
4. 305 mm Double Clamp
For making and breaking rod joints quickly
5. Hydraulic Mast Raising
For increased mobility
Standard Safety Features
Safety cage, low speed and low torque rotation for safe rod management