Boart Longyear Canada
LX™4
• Multi-purpose drilling capabilities and uses
• Hydraulic mast raising
• Integrated control panel
• Optional automatic SPT hammer for testing and sampling
• Wide range of available options
LX™4
A multi-purpose geotechnical rig capable of wireline and conventional coring, DTH, rotary and auger drilling methods.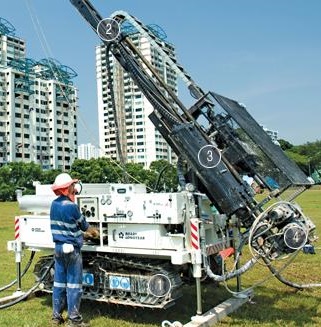 1. Powerful Steel Crawlers
Ensure mobility on difficult terrain.
2. 500 mm Mast Dump
For improved positioning on rough terrain. Hydraulic mast raising for increased mobility.
3. Standard Hydraulic Slide Shift
For easy rod-pulling and clear access to center line.
4. 220 mm Double Clamp
For making and breaking rod joints quickly and safely.
Standard Safety Features
Safety cage and low speed, low torque rotation for safe rod management.