Boart Longyear Canada
LX™11
• Coring and reverse circulation drilling capability
• Rod handling and interlocked guarding for added safety
• Track mounted multipurpose platform providing flexibility
• 1450m NQ, 325m RC (4.1/2") depth capacity
LX™11
The LX™11 is a powerful medium-sized exploration multipurpose drill capable of both diamond coring and reverse circulation drilling. The LX™11 provides increased levels of safety, operational flexibility with a low overall cost of ownership.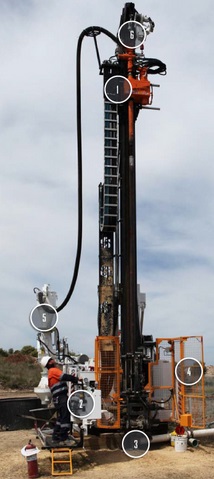 1. Top Drive Single Rotary Drill Head
Maximum rotation speed of 1200 rpm, maximum torque of 7.8 kNm @ 100 rpm.
2. Drillers Control Panel
Placed for ideal visibility.
3. Optional Rod Presenter
For safe and efficient handling of both RC and diamond coring rods
4. The Interlocked Safety Cage
Protects the operators from the rotating drill string. If the guard is opened during drilling, feed speed and rotation is reduced
5. Optional 1200 DFM Cyclone
For reverse circulation drilling.
6. A 7.2m Feed Stroke and Top Drive Head
Allow 6-meter rods to be pulled under the head.