Boart Longyear Canada
LX™16
• Designed with power to spare, separate pumps for major functions deliver full power at anytime
• 16.4 ton pull back, rope over cylinder mast with 7.5 m head traverse
• Boart Longyear™ RC rod handler
• Acoustic enclosure for power pack
• 2 speed top drive head with floating spindle suitable for both diamond and RC drilling
• Top mounted main line hoist & wire line
• UDR rod spinner & power breakouts to make / break rods
LX™16
The LX™16 (KWL™1600) is a robust and versatile drill that can be configured for both reverse drilling (RC) and diamond drilling applications. The highest quality hydraulic pumps and motors available have been integrated into this powerful design to create a reliable machine that can cope with the toughest conditions. With an optional RC rod handler, this multi-purpose drill is a market leader in safety and performance.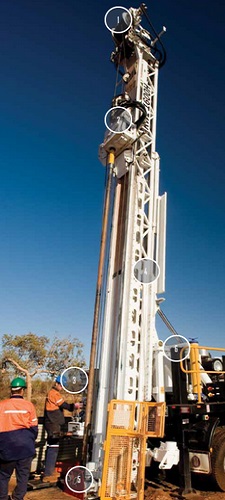 1. Top Mounted Mainline
Improves reliability and safety by keeping cable in tension and preventing bird nesting
2. Top Drive 2 Speed Head
Floating spindle makes for simple rod start and allows high speed for diamond drilling and high torque for RC drilling
3. Extendable Operator Console
The simple and uncomplicated control panel of the LX16 has an advanced ergonomic layout, capable of extending 800 mm and turning 30 degrees
4. Mast
The LX16's powerful mast is capable of 9 m rod pulls at an impressive 16,400 kg of pullback and 9,620 kg of thrust
5. Foot Clamp
The LX16's foot clamps are eccentrically loaded and hydraulically operated, allowing for a higher weight holding capacity
6. Acoustic Enclosure
Lowers operating noise levels
7. Acoustic Enclosure
Lowers operating noise levels
Optional BLY RC Rod Handler
Fail-safe hands-free rod handling and flexible pick up positions improve operator safety.
LX™16 (KWL™1600) Multi-Purpose) Drill Technical Overview