Boart Longyear Canada
S250
• Low cost-per-foot performance
• Available in several configurations
• Superior power-to-weight ratio
• Requires less maintenance than competitive hand-held drills
• Complimented by full range of hand-held drilling tools and accessories
S250
The S250 hand-held pneumatic rock drill has been designed with an ideal power-to-weight ratio to ensure maximum production in development and stoping applications. Available in several configurations including the Jackleg, Stoper and Sinker, the S250 features precision leg controls, a lightweight design, and optional acoustic baffles that reduce operator fatigue, and its simple construction requires less frequent servicing than competitors' hand-held drills.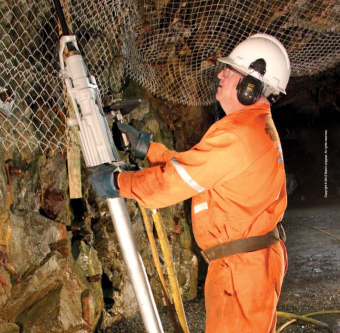 Premium Materials
The S250 uses premium materials, machined to exacting specifications to deliver high performance and exceptional durability.
Proven Technology
Boart Longyear's S250 rock drill is based on the well- established, market-leading S250 design.
Hex 22 mm and 25 mm Chuck Ends
Boart Longyear provides both 22 mm and 25 mm hex chuck ends to accommodate popular steel sizes.
Utility
The S250 is available in three primary variations including Jackleg, Stoper and Sinker, providing maximum utility for the specific customer needs. Both muffled and unmuffled versions are available.
Services and Training
Boart Longyear offers on-site services training and complete rebuild and overhaul service to ensure optimal drill performance and extended life.
S250 Pneumatic Rock Drill Technical Overivew