Boart Longyear Canada
Stopemaster™
• HD155 hydraulic rock drill
• Capable of back height drilling as low as 2.44 m (96")
• 360 degree rotation
• Up to 1.52M (60") side shift
• Pivoting traverse allows accurate ring or parallel drilling beside the carrier
• Self-propelled diesel option with 4-wheel independent drive
• Hercules centralizer provides positive centering with robust and simple design
Stopemaster™
The larger, more robust StopeMaster™ hydraulic production drill is designed for bulk mining applications. The rock drill is capable of drilling 64 mm to 106 mm holes, accommodates drilling depths from 20 m to 35 m, and can be configured with a self-propelled diesel option with 4-wheel independent drive that can be disengaged for towing.

Designed for superior access, mobility, flexibility and productivity, our StopeMate™ and StopeMaster drills were developed to meet the unique challenges of narrow vein and other underground mining applications.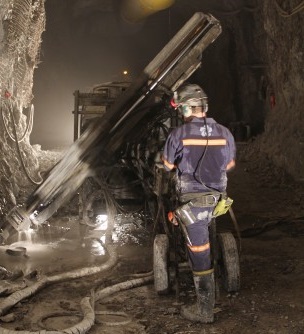 Compact
Height 90 inches x 179 inches x width 96 inches and weighs only 7258 kg - ideal for confined environments.
Mobile
Self propelled diesel option, independently driven hydraulic wheels and can easilty be towed.
Simple
Low maintenance costs and operator friendly.
Proven
High productivity in the field, reliable and durable, long service life.
Versalite
Capable of more drilling patterns than any other platform on the market. Pivoting traverse feature allows straight, accurate drilling. Hydraulic rotation of rock drill carriage adds further flexibility of drilling patterns.

StopeMaster™ Series Production Rig Technical Overivew