Boart Longyear Canada
Stopemate™
• S36 pneumatic rock drill
• Completely pneumatic powered system
• Able to fit through a 1.27 m by 1.9 m (50" x 75") opening
• Capable of back height drilling as low as 2.44 m (96")
• Fits into a man cage with no disassembly
• 360 degree rotation
• Up to 1.52M (60") traverse allows accurate ring or parallel drilling - the addition of the actuator allows drilling beside the carrier
Stopemate™
Developed in conjunction with our own drilling services division, the Boart Longyear's StopeMate™ pneumatic production drill is extremely compact—small enough to be loaded into a lift cage. This drill is capable of drilling 51mm to 76 mm holes, accommodates drilling depths of 12 to 25 m, and can be quickly disassembled and reassembled to gain access to captive areas.

Designed for superior access, mobility, flexibility and productivity, our StopeMate and StopeMaster™ drills were developed to meet the unique challenges of narrow vein and other underground mining applications.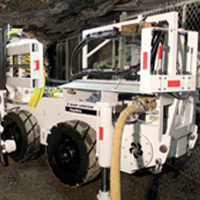 Compact
Weighs only 3750 kg. and is compact enough to fit into a lift cage with no disassembly. Breaks down into 6 manageable pieces for access to captive areas.
Mobile
Independent hydraulic driven wheels that can be disconnected for towing. Easily hoisted through standard man-way skip compartments.
Simple
Low maintenance costs and operator friendly.
Proven
High productivity in the field, reliable and durable, long service life.
Versatile
Capable of more drilling patterns than any other platform on the market. Pivoting travers feature allows straight, accurate drilling. Hydraulic rotation of rock drill carriage adds further flexibility of drilling patterns.