Boart Longyear Canada
LC™36
• Designed with power to spare, separate pumps for major functions deliver full power at anytime
• Flexible, large capacity jib boom
• Boart Longyear RC rod handler
• Acoustic enclosure for power pack
• Vee pak cooler – designed for 55°C ambient temperatures
• Automatic breakouts for 4.5" tooling & 12" Metzke slips set
LC™36
Designed with power to spare, the LC™36 (KWL™700) reverse circulation drill is one of the most powerful and reliable RC drills on the market. With proven performance in some of the toughest conditions, the LC™36 is Boart Longyear's largest drill, with 36 ton pull back capacity.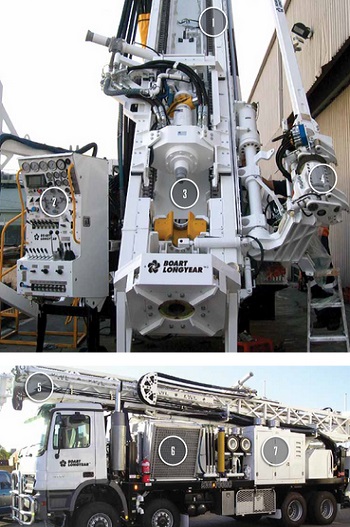 1. Chain Over Cylinder Head Traverse
Robust design with fast pull back for high productivity
2. Extendable Operator Console
Features an advanced ergonomic layout and position
3. RC Breakouts, 4.5 Inch Air Drill Auto Breakouts
Increased safety by eliminating the need for auxiliary tooling to break rod joints and tooling
4. Bly Rc Rod Handler
Fail-safe hands-free rod handling and flexible pick up positions improve operator safety.
5. Jib Boom
330° travel & 750 kg capacity ensures on site versatility, from mounting cyclones and handling rods to the removal of the acoustic enclosure
6. Vee Pack Cooler
Disperses hot air vertically for superior cooling capacity
7. Acoustic Enclosure
Lowers operating noise levels
LC™36 (KWL™700) Reverse Circulation Drill Technical Overview