Boart Longyear Canada
LF™230
• 18 ton capacity mainline hoist
• Ergonomic operator panel with electric over hydraulic controls
• 22.7 ton pullback, 3.35 m stroke direct-coupled feed cylinder
• 9 m rod pull capacity
• PQ™ Hollow spindle rotation unit with 4-speed transmission 45 degree to 90 degree angle capability
• Nitro-Chuck™ with 222 kN holding capacity
• Hydraulic powered rod clamp with BQ™ rod to HWT casing jaw sizes
• Hydraulically driven wireline winch with integrated spooling device
LF™230
The largest of the LF™ series, the LF™230 not only provides more power to drill deeper, but also has 9 m rod pull capability for increased productivity.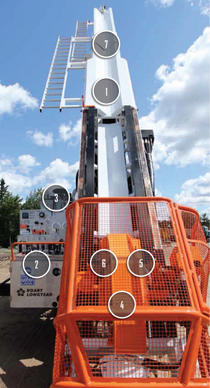 1. Dump Mast
Lowers working height and relieves load on the mast, making for more efficient design.
2. Ergonomic Operator Panel
The electric over hydraulic system reduces operator fatigue, and lift-to-shift levers provide additional operator safety.
3. Simple Hydraulic Design
Direct-coupled hydraulic pumps with a PTO-driven auxiliary pump allow for easy maintenance.
4. Rotation Barrier
Interlocked rotation barrier slows rotation when barrier is open, providing additional operator safety. Mainline winch limiter and tensioner prevent over-winding and bird-nesting of the cable.
5. Hydraulic Swing-Out Head
Lowers working height when handling inner tube.
6. Nitro-Chuck™
Patented nitrogen gas spring jaws with hydraulic open/spring close function ensuring fail safe operation.
7. 9m Rod-Pull
Increases productivity.
8. Small Footprint
The compact design, as compared to other machines in this class, allows for easy transportation and a smaller site footprint.
LF™230 Surface Coring Drill Technical Overview