Boart Longyear Canada
LF™70
• Self contained operator panel with manually operated hydraulic control valves
• 5.4 ton capacity mainline hoist
• 6.4 ton pullback with 6 m pull, direct-coupled feed cylinder with 1.83 m stroke
• Hollow spindle rotation unit with 4-speed transmission (HQ™ & PQ™ configurations available)
• Nitro-Chuck™ with 133 kN holding capacity
• Hydraulic powered rod clamp with BQ™ rod to HWT casing jaw sizes
• 45 degree - 90 degree angle capability
LF™70
The LF™70, one of the most recognized small-format drills in the industry, is a flyable rig with a depth capacity of 700 m that can be assembled in less than an hour. With its innovative modular design, this lightweight exploration rig is ideal for drilling in remote locations.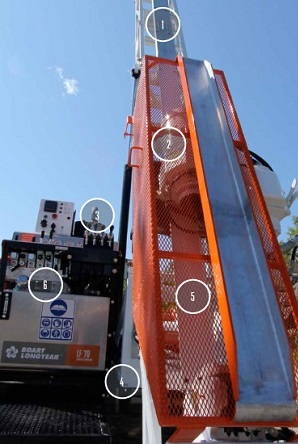 1. Solid Structural Design
Rigid design provides superior performance and reliability even under the toughest conditions.

2. Nitro Chuck™
The patented nitrogen gas spring jaws with hydraulic open/spring close function ensuring fail safe operation.

3. Simple Hydraulic Design
Direct-coupled hydraulic pumps with a PTO-driven auxiliary pump allow for easy maintenance.

4. Flyable
The LF™70 easily breaks down into seven flyable modules with a maximum weight of 585 kg

5. PQ Rotation Unit
Four-Speed transmission delivers high torque when needed and high speed for diamond drilling

6. Self-Contained Operator Panel
The simple hydraulic system is easy to operate and maintain while lift-to-shift levers provide additional operator safety

LF™70 Surface Coring Fly Drill Technical Overview