Boart Longyear Canada
LF™90C
• 11.3 ton pullback with 6 m rod pull, direct-coupled feed cylinder with 3.35 m stroke
• 45 degree to 90 degree angle capability
• PQ™ Hollow spindle rotation unit with 4-speed transmission
• Nitro-Chuck™ with 222 kN holding capacity
• Hydraulic powered rod clamp with BQ™ rod to HWT casing jaw sizes
• 7.2 ton capacity mainline hoist
• Trailer mount
LF™90C
Modeled after the LF™70 surface coring rig, the LF™90C features a larger power pack, increasing its depth capacity to 930 m.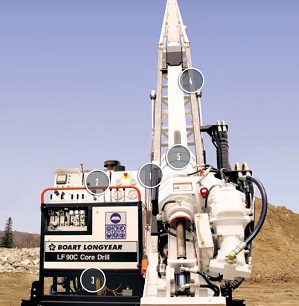 1. Dual Mast Raising Cylinders
Equipped with counterbalance valves for increased safety when positioning the mast.
2. Self-Contained Operator Panel
The simple hydraulic system is easy to operate and maintain and lift-to-shift levers provide additional operator safety.
3. Simple Hydraulic Design
Direct-coupled hydraulic pumps with a PTO-driven auxiliary pump allow for easy maintenance.
4. Solid Lattice Mast Design
Rigid design provides superior performance and reliability even under the toughest conditions.
5. Nitro-Chuck™
Patented nitrogen gas spring jaws with hydraulic open/spring close function ensuring fail safe operation.

LF™90C Surface Coring Drill Technical Overview