Hella Inc
LED Daytime Running Lamp
Product Features
• MultiVolt™ 9-33V DC
• Equipped with 12 highly efficient LEDs
• Ultra long life 'Fit and Forget'
• Low power consumption < 2 Watts
• Fully sealed against dust and high-pressure water jets
• Overtemperature protection
• Stainless steel universal mounting bracket
• Reverse polarity protected
• Spike and overvoltage protection
• Long term UV resistant
• Pre-wired with 2.5 metres of 3 x 0.75mm² automotive cable
• Even, uniform close range illumination
• ADR/ECE: ADR 76/00

All HELLA Mining LED products are covered by a five (5) year warranty on light output, excluding environmental and physical damage.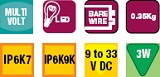 LED Daytime Running Lamp
Safety is paramount on every mine site. On most sites the use of headlights on vehicles is mandatory at all times, however dipped beam headlights are less visible during daylight hours than dedicated Daytime Running Lamps (DRLs).
HELLA has just launched a low power LED Daytime Running Lamp that provides extra safety through enhanced visibility, at a fraction of the power consumption of conventional headlights.
HELLA LED Daytime Running Lamps (DRLs) are designed to significantly improve vehicle visibility on site. These lights are sealed, require no maintenance ("fit and forget")' and are ADR approved for road use, giving the lights the versatility to suit multiple applications.
With lower power usage and a zero maintenance requirement, these lamps are are a sound investment for enhanced mine safety. The lens is manufactured from Swiss made Grilamid® Optical Nylon which provides superior resistance to UV and to a wide range of chemicals, as well as high impact strength, enabling the lamp to survive the highly demanding environmental conditions of today's mining.
The new HELLA LED Daytime Running Lamp (DRL) is suitable for upright or pendant mounting and supplied with universal stainless steel mounting brackets. LED DRLs have multiple applications, which include area illumination around the vehicle.