Aquatech
Aquatech Introduces Aqua-Barrier To Our Dewatering Fleet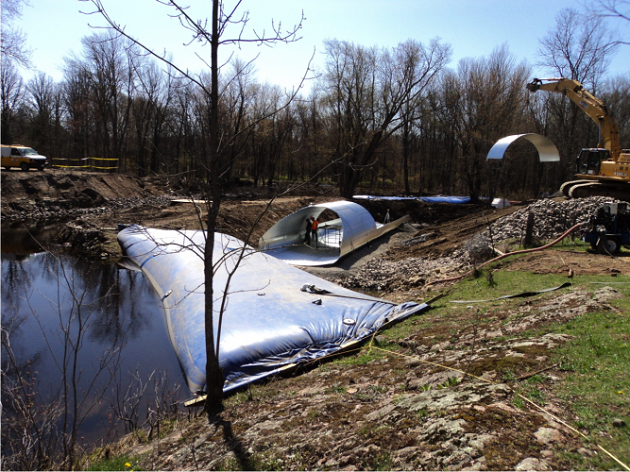 Aqua-Barrier™ portable cofferdams, are water-inflated temporary dams that provide an economical, effective, and safe alternative to conventional dam methods such as sand bags, earthen berms, and mechanical barriers. They accommodate construction worksite dewatering, flood control, and other critical, rapid-deployment situations that require effective spill containment. Applications include pipeline installation and repair, shoreline stabilization, bridge construction and repair, and boat ramp installations.
Extensive engineering has gone into the design of Aqua-Barrier, resulting in a water control system that is safe, stable, and effective. The patented internal baffle system provides stability, creating the safest barrier system available. Aqua-Barriers can be custom built to sizes ranging from 0.30 - 2.44 metres (1 - 8 feet) in height and 1.83 - 32 metres (6 - 105 feet) in length. In addition, they have been designed to meet or exceed stringent environmental agency water control restrictions.
Aqua-Barrier can be inflated with any available water source - upon completion, simply drain the barriers for quick removal. It is the most rapidly installed and removed temporary water damming and diversion system available.
Source: http://aquatechdewatering.com/news_detail.php?2013-03-06-00-00-00-39
Accounting Clerk Maple Branch
The Accounting Clerk is a member of the Aquatech team that will oversee the finances, payment and payroll of the accounting department.
Sales Administrator Maple Branch
The Sales Administrator is a member of the Pump and Power Team who is responsible for expanding the sale and rental of AQUATECH's pumping fleet by supporting the technical sales representative(s).
Junior Engineer Project Coordinator
The Junior Engineer / Project Coordinator will work closely with senior staff and as part of a team will be involved in the design, development and implementation of groundwater control and treatment systems.