Brigus Gold
Black Fox Mine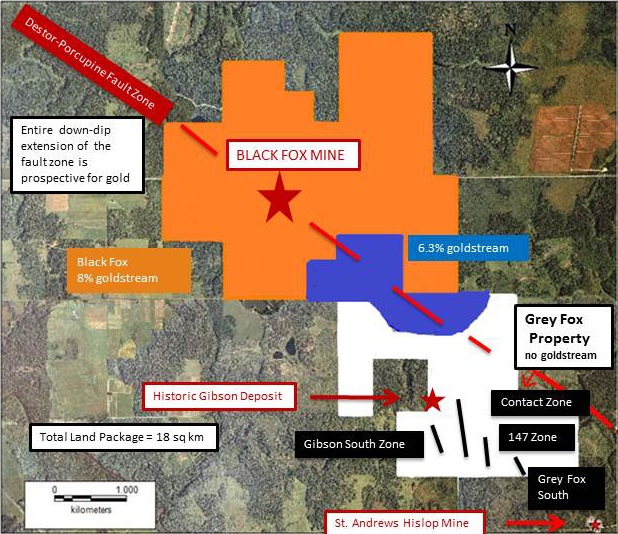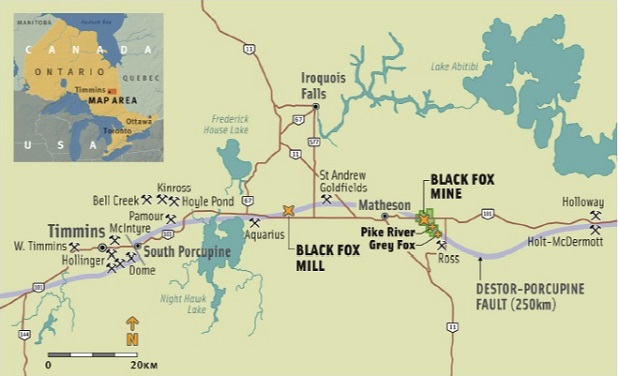 Country
 

Canada
 
Type of Mine
 
Open pit and underground gold mines
 
Ownership
 
100% owned and operated by Brigus Gold
 
Land Position
 

Black Fox Mine = 1,225 hectares

Black Fox Mill = 2,280 hectares
 




The Black Fox mine is located in Timmins, Ontario and is hosted on a land package of 18 square kilometres, known as the Black Fox Complex.
Both the open pit and the underground mine are in commercial producation starting respectively in May 2009 and October 2011.
Since Brigus took ownership of the Black Fox Complex in June 2010, the company has strived to make the necessary improvements to support increased production and ore grade control. Today, you will see the benefits of these efforts.
The Black Fox property has also proven to be a source for new gold discoveries. The 147 and Contact zones are located four kilometres southeast of the operating Black Fox mine and hosts more than 50 percent of the resource on the Black Fox Complex.
In conjunction with increased production levels and ongoing exploration, the company has successfully completed an initial expansion of the Black Fox mill. The expansion increased the processing capacity at the mill by 10% to 2,200 tonnes per day through optimization of existing mill equipment, adding leach tank capacity, and elimination of production losses.
Company Highlights
• Increasing gold production and decreasing cash costs
• Black fox is cash flow positive and profitable
• Significiant exploration upside and resource additions through a $10.5 million exploration program
• Strong managment team with development, financial and exploration expertise


Location
The Black Fox mine and mill are located in the Township of Black River-Matheson, Ontario, in the Timmins Gold District in Ontario, Canada. The mine is approximately 75 kilometres (km) east of Timmins and 11 km east of Matheson.
The mill is located approximately 31 km west of the mine, off Highway 101.
Property Description
The Black Fox Complex comprises the mine, mill and our Grey Fox property. Brigus Gold controls a total contiguous land package of 18 sq. km. of the mine and adjoining Grey Fox-Pike River property. This strategic land package includes 6.5 km of strike of the well-known Destor-Porcupine Fault Zone (DPFZ). The DPFZ is a major east-west trending, fault system of the Pre-Cambrian Abitibi Greenstone Belt and together with its numerous splays are associated with many past and current producing gold mines of the Timmins Gold District.
Geology and Mineralization
The three main styles of gold mineralization observed at Black Fox are:
• Low-sulfide mineralization associated with abundant quartz veining and quartz stockwork within strong ankerite fuchsite altered ultramafic volcanic rocks commonly called "carbonate ore". Most the ore mined so far at the Black Fox has been this type of ore.
• Mineralization hosted within mafic volcanic units associated with pyrite and minor to moderate quartz veining; commonly called "flow ore". Fifty percent of current underground reserves are this type of ore.
• Mineralization hosted by silicified felsic dikes.

Flow ore is a term that originated from the Timmins and Kirkland Lake mining camps to describe basalt hosted ore, that was originally a volcanic flow, dike or sill. When this basalt unit is sheared and altered, it is found to be a viable and consistent host rock for mineralization, and, therefore, has been found to be more predictable in mine models.
Carbonate is the dominant rock in the Destor-Porcupine Fault Zone and its splay veins. Carbonate ore can contain extremely high-grade, visible gold with a high nugget effect, which can make it more challenging to model for mining extraction.
Exploration History
The Black Fox property was first explored as early as 1952. The property was formerly known as the Glimmer Mine. In 1996 Exall Resources Ltd. Purchased 60% of the property from Hemlo Gold Inc. and Glimmer Resource Inc. held the remaining 40%. The former Glimmer Mine ceased operations in 2001, after producing approximately 211,000 ounce of gold from underground workings. A predecessor company of Brigus Gold purchased the property and mine in 2002 and renamed the property as Black Fox.
From 2003 to 2007, the Company completed drill programs of 504 surface diamond drill holes totaling 149,548 meters and 396 underground holes totaling 78,644 metres. The Company's drilling supplemented the data from the 286 surface and 707 underground drill holes drilled by the previous owners. The Black Fox deposit has a high degree of geologic data with more than 230,000 m of core drilling.
The Black Fox deposit remains open along strike and at depth. In addition, certain portions of the mine and mill properties are underexplored and will be explored further to identify new targets.
Qualified Person
The Qualified Person who reviewed the information presented here is Brigus Gold's Sr. Exploration Project Manager John Dixon.
Reserves and Resources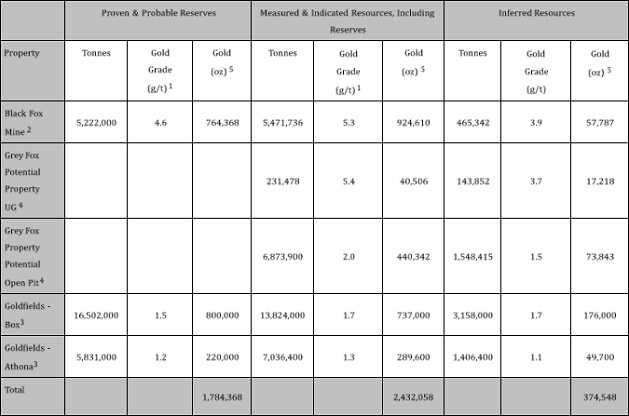 1. The average gold grade for Proven and Probable Reserves is adjusted for dilution while Measured and indicated Resources is not. Contained metal in estimated reserves remains subject to metallurgical recovery losses.

2. Black Fox reserves and resources are based on US$1,150/oz Au for 88% of production and US$500/oz Au for gold sold through the gold stream agreement from the NI 43-101 Technical Report prepared by Wardrop, A Tetra Tech Company (Tetra Tech) lanuary 2011. The Black Fox open pit reserves and resources are reported at a 0.88 gpt cut-off and the underground reserves and resources are reported at a 2.54 gpt cut-off. Estimated Black Fox reserves and resources are shown as at December 31, 201 1, net of mining depletion from the October 31, 2010 independent Technical Report.

3. Goldfields reserves and resources are based on CAD$1,250/oz Au and 2% NSR. Goldfields' Box and Athona deposits resources reflect a gold cut-off grade (COG) of 0.50 gpt and reserves reflect a COG of 0.72 gpt with a marginal COG of 0.33 gpt. The NI 43-101 Technical Reports for the Box and Athona deposits, which comprise the Goldfields Project, were prepared by March Consulting Associates lnc. October 2011.

4. The new mineral resource estimates are reported to reflect potential open pit and underground resource values for both the 147 and Contact Zones which include calculated cut-off grades of 0.65 g/t gold for potential open pit mining and 2.63 g/t gold for potential underground mining based on parameters from the Black Fox Mine. The reported potential open pit resource was based on the resources above a plane approximately 200 m below surface level and the potential underground resource estimate was based on the remaining resources below the 200 m level plane. A top cut of 100 gpt Au was applied to assay grades prior to compositing.
5.
Disclosure of "contained ounces" is permitted under Canadian Regulations; however, the SEC permits resources to be reported only as in place tonnage and grade.
Technical Report

Please click here for N1 43-101 Technical Report (9MB)
Source: http://www.brigusgold.com/mine/black_fox/