Gorf Mfg./Contracting Ltd.
Headquarters, Porcupine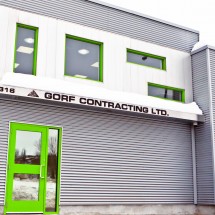 Headquarters in Porcupine, Gorf Manufacturing/Contracting Ltd s expanding and is proud to announce the grand opening of its new office in Sudbury, Ontario. The company of Gorf has decided to join the sudbury industry because it has proven over the decades to be infrastructure in the development of many companies. The office is located in the area of downtown, and we will be pleased to welcome you.  
Please feel free to stop in or contact us.

Gorf  Manufacturing/Contracting Ltd. - Sudbury Office
316 Notre Dame Avenue, Sudbury, Ontario P3C 5K5

+1 (705) 222 2046 Telephone:
+1 (705) 222 2049 FAX:
E-mail: info@gorfcontracting.com
Source: http://www.gorfcontracting.com/news/headquarters-porcupine/
Employment Opportunities
Do you want to be part of something new, innovative and awesome? We are looking for people who share our passion for both the Manufacturing and Contracting industries.