Fountain Tire
Testimonials
Testimonial from R Clauson Logging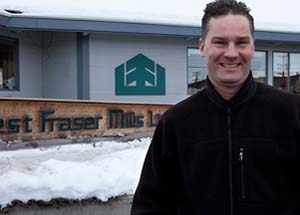 We have about 30 pick-up trucks and 5 trailers in our fleet and Fountain Tire handles all of our fleet maintenance and servicing.
The safety aspect of our vehicle maintenance is my biggest concern. Prior to working with Fountain Tire we had issues with the vehicles being serviced and not all the safety items were identified, which led to some catastrophic component failures. 
There was always a concern for the safety of the driver. I'm very happy now with the program that we set up with Kelly at Fountain Tire.
Besides the safety aspect they've also worked to understand our fleet's needs by implementing an effective preventive maintenance program. This inspection and maintenance program I believe has really driven our costs down.
I've been in the forest industry for 23 years now and never experienced such exceptional service like Kelly, Shelagh and their team offer. They always go out of their way by loaning us vehicles, driving us back to the office, picking up the trucks and dropping them off to where the driver needs it, to name a few. They really go out of their way to service our needs. A great example of their service happened when the engine of one of our old trucks stopped working. They searched around for a used engine and installed it, allowing us to get a couple more years out of the vehicle. I think that shows what extraordinary service they offer.
Peter Andrews
Woodlands Manager
West Fraser Corporate
Quesnel, B.C.
Lumber Industry
Testimonial from Timber Service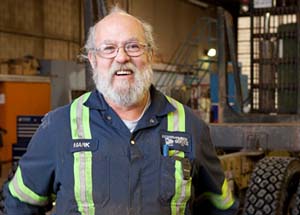 We've got 14 logging trucks and 2 low bed trucks. Flat tires are our biggest headache but we know that if we have a hole in a tire we can just show up at the Fountain Tire shop, no appointment necessary and they get right on it; whether it's indoors or outdoors there has never been an issue.  This store caters not only to our specific needs but also to the logging industry in general.
Client testimnial timber serviceI get along well with the people who run this store and have a great story that shows Fountain Tire's client service level. They did a service call for us out to Kemess Mine that was excellent. One of our low bed trucks had lost 12 tires at least 450km into the bush. Fountain Tire was loaded and gone within an hour of me having talked to them. They did a super job and even kept the price low despite the extra time and effort they obviously put in.
Kelly and his guys are great, he's set a high standard for service and everyone working there lives up to it. Kelly's the kind of guy that doesn't turn work away; I've been doing this job for over 22 years and I can say these guys are really outstanding. I appreciate what he does for us.
Mark Rosling
Fleet Manager
Timber Service
Quesnel, B.C.
Logging Industry
Testimonial from DCT Chambers Trucking Ltd
The bulk of our business is hauling wood chips or wood residual like saw dust in the Southern half of BC. We also have flat decks that do various loads in Northwestern United States or Western part of Canada.
To us one of the most important services Fountain Tire offers is probably the recapping. They're always trying to make a difference in retreading, from looking at the 'recap-ability' of tires based on age of tire, to determining why a tire should or should not be retreaded. The information they've provided us, from their analyzing of all the tires that have gone in for retreading has been helpful. Retreading is definitely the service we appreciate the most, as it requires more detail and advice than say choosing a new tire does.
Our main contact is Blaine Mackenzie, Corporate Sales Manager, so if issues about billing or a question as far as a tire or retread comes up we contact him directly. Blaine is excellent, he has a great attitude, gets back to us immediately and listens to our side of the story; overall he does an excellent job.
What stands out about Fountain Tire is simply their attitude and willingness to try and help in certain situations and make improvements where needed. Their people are very good, they don't expect the business, they're working for it.They've got a good attitude.
Dennis Squire
Purchasing Manager
DCT Chambers Trucking Ltd
Vernon, B.C.
Bulk Hauling Industry
Source: http://commercial.fountaintire.com/client-services/client-testimonials
Heavy Duty Technician
Fountain Tire Edson (4619 2 Ave) is currently seeking an experienced Journeyman Heavy Duty Mechanic. 
Automotive Mechanic
Fountain Tire North Vancouver is looking for a skilled and reliable Automotive Mechanic!
Automotive Service Technician
Fountain Tire Edmonton City Center (10180 105 Street) part of one of Canada's Best Managed Companies is looking for an Journeyman Automotive Service Technician! 
Commercial Tire Technician
Fountain Tire Drumheller is looking for a responsible, safe and dedicated associate to join our team as an Automotive/Commercial Tire Technician.
Truck and Coach Technician (310T Mechanic)
Career wheels spinning but getting nowhere? Put yourself in the driver's seat and get some traction with Fountain Tire Vaughan (8300 Jane Street) as a Truck and Coach (310T) Technician!