SAMSSA receives award of appreciation from N.A.M.E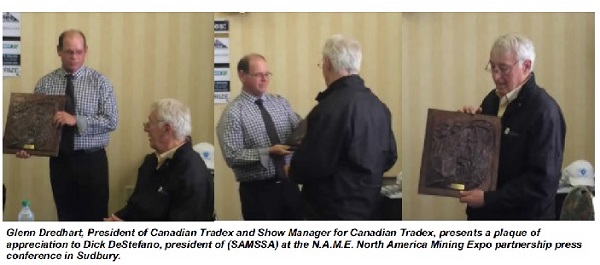 Glenn Dredhart, the president of Canadian Tradex, the company hosting the North America Mining Expo in Greater Sudbury, Ontario presented a special award of appreciation to Dick DeStefano, president of the Sudbury Area Mining Suppliers and Service Association (SAMSSA).
The presentation took place at the N.A.M.E North America Mining Expo Kick Off News Conference held at the Travelodge Hotel on September 4, 2014. The event was designed to introduce key participants and supporters of the North America Mining Expo to the Sudbury media.
"On behalf of Canadian Tradex, I presented the award to Dick DeStefano in appreciation of his significant contribution to the North America Mining Expo in advisory role and his work promoting the importance of the Sudbury mining community," states Dredhart.
"Dick works tirelessly in promoting Sudbury as a great mining centre in North America. He has also helped to open the hearts of Sudbury to the North America Mining Expo," Dredhart added. "As Canadian Tradex we wanted to Dick and the excellent support of the SAMSSA members."
The embossed plaque depicting miners tirelessly working underground was designed and manufactured locally by Sudbury artisan Tyler Fauvelle.
The inaugural North America Mining Expo is being held Sept.10 and 11 at the Hanmer Centennial Arena, in Greater Sudbury.
For more information visit www.northamericaminingexpo.com