Melkior Resources Inc.
Carscallen Gold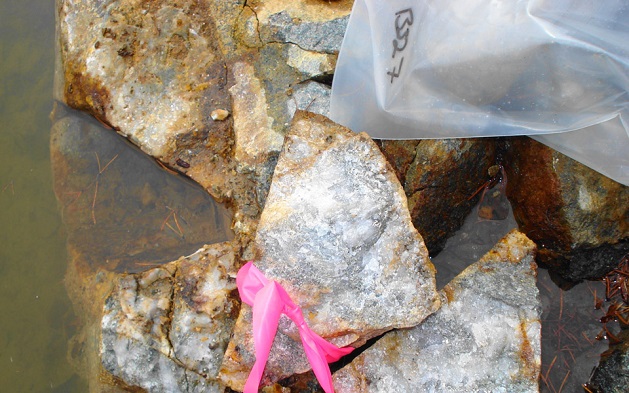 • Metals of interests:
Gold
• Ownership: 100 % Melkior
• Location: 25km west of Timmins – Accessible by road all year-round
• Surface area: 104 claim units, covering over 16 square kilometers
• 33,000 meters of drilling completed
• ZamZam gold bearing zone has been traced on surface for a length of 215 metres averaging 15.97 g/t gold.
• Preliminary metallurgical testing shows 95% gold recovery from 8.72 g/t Gold head grade material at the ZamZam zone.
• Gold and volcanogenic massive sulfide (VMS) potential.
• Significant gold bearing fault structures over 1 kilometer in length with surface work and drilling confirming continuity of the zones. Open on strike and at depth.


Overview
During the past 100 years the Timmins area has produced over 70 million ounces of gold, making it one of the richest gold camps in Canada. The Porcupine Destor Fault Zone (PDFZ) and its associated splays influence the location of many of the major gold deposits in the Timmins camp and the Abitibi Greenstone belt. Timmins is also home to Kidd Creek, one of the largest VMS ore deposits in the world.
The 100% owned Carscallen Gold Project is located in the Abitibi Greenstone belt, 3 kilometres due north of the PDFZ and 25 kilometres west of the city of Timmins in Northeastern Ontario. The project shares approximately 9 kilometres of common boundary with Lake Shore Gold Corp., a company which holds the Timmins Mine and several other promising advanced prospects and promising deposits. Access to the Project is excellent, and is via a series of roads and trails which connect to Highway 101.
In the past 6 years Melkior has completed over 33,000 meters of drilling and has revealed several high-grade gold zones located in a 1000 metre by 1000 metre corridor. The gold system has been systematically traced from surface down to depths of 400 metres. Seven gold zones are located within the property boundary; ZamZam, Shenkman, Jowsey, 1010 North and South, Mystery and Wire gold occurrence.
History & Geology
Our Carscallen Gold Project lies only 3 kilometres north of the PDFZ which influences the location of numerous gold and VMS deposits in the Abitibi Greenstone Belt.
The property has been intermittently explored since the 1920′s. In 1926, Sydney Beanland and Frank Hurst discovered wire gold in thin quartz veins in the iron formation in the northeastern part of the present property. This discovery is known as the Wire gold occurrence. In 1934, the Shenkman vein had been discovered and traced over an exposed length of 120 feet. By 1946 the 1010 and Jowsey veins had been discovered.
In 2006 Melkior discovered the Mystery Zone during a summer prospecting campaign with a grab sample assaying 84 g/t Gold. In the summer of 2007, Melkior conducted mechanical stripping of chargeability anomalies and discovered the ZamZam zone, which was exposed over a 55 metre strike length. The best assay was 843.7 g/t Gold.
The rock types seen on surface and in core include granite/granodiorite, mafic volcanic rocks, iron formation (sulphide and oxide facies), quartz-feldspar porphyry intrusions/dikes and locally lamprophyre dikes.
There are seven main gold zones recognized, going by the names of: ZamZam, Shenkman,1010 North and South, Jowsey, Wire Gold and Mystery. The gold mineralization mainly occurs within these corridors – typically in veins several centimeters to half a meter thick and grading between 1 to 100 grams of gold per ton (g/t), but as high as 843.72g/t.
Results
Overview Photos Maps Results Reports
Source: http://www.melkior.com/canadian-exploration/gold/timmins-gold-carscallen/