Work ended but Osisko's Garrcon still fully permitted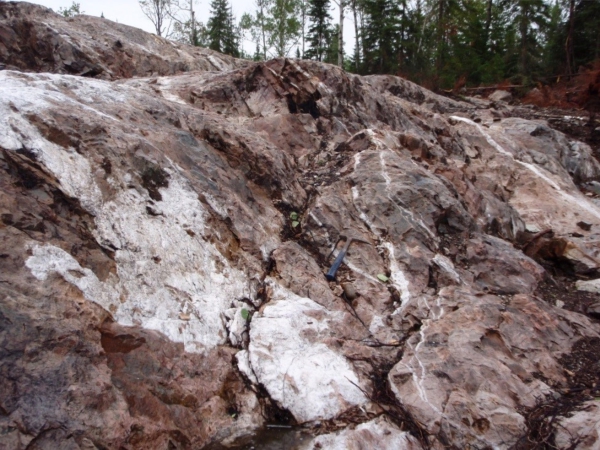 Despite a bulk sample in 2015 yielding 3516.3 ounces of gold, the Garrcon Deposit has been placed on inactive status.
The present owner, Osisko Mining Inc., says "the trial production permit remains active if the company wishes to pursue a second phase of bulk sampling or pursue a full production permit."
In 2014 and 2015 then owner Northern Gold Mining completed a trial production mining permit through the Ontario Ministry of Northern Development and Mines allowing for the extraction of up to 150,000 tonnes in Garrcon Township in the Kirkland Lake Mining District.
Commencing in 2014 Northern Gold ultimately mined 73,534 dry tonnes that was processed at the nearby Holt mill facility recovering 3516.3 ounces at an average head grade of 1.55g/t and recovery of 95.9%.
On June 14, 2016 Oban Mining Corporation, which had absorbed Northern Gold in November 2015, changed its name to Osisko Mining Inc.
Osisko is a mineral exploration company focused on the acquisition, exploration, and development of precious metal resource properties in Canada.
Osisko holds a 100% in the high-grade Windfall Lake gold deposit located between Val-d'Or and Chibougamau in Québec and holds a 100% undivided interest in a large area of claims in the surrounding Urban Barry area (82,400 hectares).
It also has a 100% interest in the Marban project located in the heart of Québec's prolific Abitibi gold mining district, and properties in the Larder Lake Mining Division in Northeast Ontario, including the Jonpol and Garrcon deposits on the Garrison property, the Buffonta past producing mine and the Gold Pike mine property.
The corporation also holds interests and options in a number of additional properties in Northern Ontario.
Osisko is well financed with approximately $74 million in cash, cash equivalents and marketable securities.
The corporation adopted the Osisko name to reflect its evolution since the beginning of 2015 as a result of its consolidation activities in Ontario and Québec.
The original Osisko Mining Corporation earned international recognition with the successes of its exploration and development team - a team that included several current members of the corporation's board and senior management - crowned by the discovery, development and operation of the Canadian Malartic Mine in the Abitibi region of Northwestern Québec, until the joint acquisition of Osisko Mining Corporation in June 2014 by Agnico Eagle Mines Limited and Yamana Gold Inc.
The corporation said "it wishes to reintroduce the Osisko Mining name to the mining and investment communities to better reflect the corporation's current management, board and technical teams that were responsible for much of the success of the original Osisko Mining Corporation, and the highly prospective mineral project portfolio in Québec and Ontario that management believes will allow the corporation to continue the fulfilment both of the corporation's potential and its commitments to all of its stakeholders.
The Garrcon shaft was sunk in 1935 and 1936 by the Consolidated Mining and Smelting Co. of Canada (Cominco) and the Shaft and South zones were tested for high grade gold mineralization.
Cominco drove approximately 1,430 metres of drifts and cross cuts, mining underground veins. Diamond drilling by Cominco and Lac Minerals in the mid to late 1980s identified broad sections of gold mineralization.
Gold prices at that time failed to encourage any further work. In 2006 and 2007 ValGold Resources conducted additional drilling and again confirmed broad zones of gold mineralization.
Between 2009 and 2013 Northern Gold Mining conducted extensive exploration including over 97,000 metres of diamond drilling which discovered and delineated the current resource.
Northern Gold was a TSX-V listed gold company based in Toronto. The company's main focus was the exploration and development of its prospective mineral properties at the Golden Bear Project in the Larder Lake Mining Division.
Northern Gold had a portfolio of advanced exploration projects, including the Jonpol and Garrcon deposits and the Buffonta property. Transactions, including an amalgamation with Victory Gold Mines Inc. and acquisition of the Lac Minerals Property, added to Northern Gold's regional portfolio holdings along the Destor-Porcupine Fault Zone.