Vale S.A.
Communities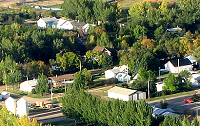 At Vale, we are proud to operate in and be part of the communities that make us who and what we are. We work where we live and we live where we work.
Through our presence in four Canadian provinces, Vale operations are connected by a shared dedication to invest in our communities and help make them the best they can be.
We are committed to:
Bringing opportunities to our communities
Building new infrastructure where we work
Hiring local workers and suppliers
Giving back to through volunteerism, sponsorship, and charitable donations.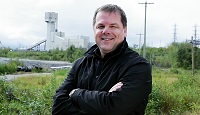 Vale and Manitoba Hydro: Working Together
Vale's Manitoba Operations have a long-standing partnership with Manitoba Hydro and recently produced a short video about the utility's Power Smart program. The video, featuring Lovro Paulic, director of Vale's Manitoba Operations, outlines some of the things the Company has done to reduce our energy consumption. These measures include replacing lights, installing insulation and energy efficient windows, and upgrading pumps and compressors.
"We've tried to use every Power Smart system possible to assist with remaining competitive and reducing our environmental footprint," Paulic says, noting that the company is saving about $750,000 every year on energy costs due to these Power Smart modifications. "It's important to our business, our employees and our community that we reduce our environmental footprint."
Vale's Manitoba Operations have been involved with Power Smart since its inception in the early 1990's.
Vale Living with Lakes Centre: A global leader in water conservation studies
​We all know that water is one of the earth's most valuable resources, consumed by everyone, every day, for personal, domestic and industrial uses. So in 2008, we proudly contributed $4.5 million to the construction of the $20-million Vale Living with Lakes Centre at Laurentian University.
Vale Living with Lakes Centre is constructed of light-brown bricks and has a curved exterior wall It's a global centre of excellence in freshwater ecology, environmental restoration and sustainability. And it's located in the heart of one of our most important communities: Sudbury, Ontario.
The building is both beautiful both ecologically and aesthetically. It's one of the most environmentally advanced buildings in Canada, using geothermal energy and collecting, treating and recycling rainwater. The building has LEED (Leadership in Energy and Environmental Design) certification and will save over $1 million in energy and water costs over the next 25 years.
What goes on inside the building is just as remarkable as the outside. It provides a space for Laurentian University scientists and researchers to study northern aquatic systems, their health and remediation. They tackle issues like climate change and industrial development in northern climates. The studies, in turn, help our company and others to measure the effectiveness of environmental protection work. With that information, we aim to ensure that we make a positive impact in protecting our waterways now and in the future.​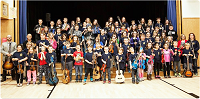 Making Music: Working with Woodland Elementary School
The announcement was music to Leila Brown's ears. At a time when she had been working hard applying for government grants to help expand her school's popular music program, Vale's Long Harbour Operations announced a three-year funding commitment to the Woodland Elementary School in New Harbour, NL.
Brown, the music teacher at Woodland Elementary, says the donation provided students – who play in one of four instrumental groups including guitar, accordion, concert band and violin, with inspiration to take their music a step, or note, further.
"It brought me the opportunity to bring in professional musicians to help teach the kids and to help motivate them," said Brown, who's taught music for 21 years. "When the musicians came in, they gave the students more technical experience and it exposed them to a repertoire that's out in the community. That helped motivate them to learn."
Until then, Brown's program had been a growing interest for Woodland's music students, however, Brown could only take the 80+ students so far in their skill development.
"There just weren't enough hours in the day for me to address the needs of all the children," she says. By introducing professional musicians, it helped demonstrate to the students more advanced musical playing techniques that they in turn could try themselves.
Vale's sponsorship is being used to bring in three musicians, multiple times, over the next three years. Jason March, performing folk and pop musician; Elizabeth Philpott, a former music teacher specializing in concert band; and Kelly Russell, a performer and private instructor in fiddle and accordion, each spent four sessions with the students. Focusing on their particular area of expertise, they taught the kids various songs and techniques to further their playing and will continue to work with the students over the next two years.
"It also really showed the kids that music is not just something they're learning in school – it's a life skill that they can take with them and be like those musicians," Brown said.
And learn they did—well enough to show off their newly developed skills in a recent musical showcase at the school.
"We're always happy to support a local initiative like Woodland's music program, which is a great match to Vale's community investment objectives," said Don Stevens, manager, Long Harbour Operations. "The program's goals are compelling, taking a traditional music education a step further by putting professional musicians in the classroom to work with the children, and overcoming a common limitation to education programs in smaller communities: accessibility to resources, be they people- or materials-related."
Source: http://www.vale.com/canada/en/aboutvale/communities/pages/default.aspx
Engineer-In-Training (EIT)
The successful candidate will be a member of the Vale's Ontario Operations and enrolled in a 48-month program that includes Application of Theory, Practical Experience, Management of Engineering Communication Skills, and Social Implications of Engineering which is the requirement for licensing as a Professional Engineer in Ontario. 
Technical Leader, Projects Sudbury
We are currently seeking a Technical Leader, Projects Sudbury to join our Exploration and Mineral Projects team in Sudbury. This is a permanent position.
Surface Construction Manager
We are currently seeking a Surface Construction Manager to join our Voisey's Bay Mine Expansion Project Team for our remote mine site in Voisey's Bay, Labrador, a fly-in fly-out operation. This project term position will be working from home office with regular travel to Voisey's Bay.
Manager, Exploration Voisey's Bay
We are currently seeking a Voisey's Bay Exploration Manager to join our Exploration team in St. John's and Voisey's Bay Mine site, Newfoundland and Labrador. This is a permanent position.
Manager, Exploration Thompson
We are currently seeking a Manager, Exploration Thompson to join our Exploration team in Thompson. This is a permanent position.
Maintenance Technician - Scaffolding
We are currently seeking a Maintenance Technician - Scaffolder to join our Maintenance Team at our remote mine site in Voisey's Bay, Labrador , a fly-in fly-out operation. This is a permanent position, with a 2 week on, 2 week off rotation.