Hella Inc
WL200 Halogen
Product features
• UV resistant polymer body
• Glass lens
• Stainless steel bracket
• Free-Form wide beam optics
• Membrane breather element
• Double insulated
• Built in DT connector
• O-ring seals in the back
• Components tested over a -40°C to +50°C temperature range
• H3 Halogen 70W 24V and H3 Halogen 55W 12V available
• IP6K5K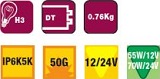 Halogen Work Light
The new WL200 Halogen is a low cost, compact and highly versatile heavy-duty work light for use on mining machinery; suitable for 24V and 12V electrical systems. The work lamp features a robust nylon housing with a strong glass lens, built in DT plug and is available in 12V H3 55W or 24V H3 70W.
Good lighting is essential to create a safe and productive work area where machine operators can clearly see their work environment and identify any hazards in time to take the required action. The WL200 is engineered to deliver the excellent lighting in the extreme environmental conditions encountered in mining applications.
WL200 lights employ HELLA Free-Form optics to deliver a homogenous spread of light, enabling operators to see comfortably for long periods of time. The light distribution of the beam ensures an absence of sharp transitions from light to dark in the operator's visual field, significally reducing adaption related eye fatigue and stress.
The opitcal modules comprise of a precision-moulded specular reflector; permanently assembled to a corrosion-resistant hardened glass reflector lens and lamp holder, ensuring perfect focus of each unit. HELLA integrated a membrane breather element into the WL200 to ensure the optical system remains virtually dust free over the product's life in the adverse atmosphere typically encountered in mining.
Safe and reliable electrical connection is facilitated via a DT connector built into the housing. WL200 lights use a highly corrosion-resistant, heavy duty, UV-resistant polymer body.
A dust and water proof plug in the rear enables easy routine service access from the rear while high temperature O-ring seals ensure effective sealing.

Spare Parts & Options
YC2470
Globe - H3 24V
YC1255LL
Globe - H3 12V